CPR Ratings


As per Location | Layout Design
The Mall of Saya (Saya South-X) is situated on the 130 Ft wide road of Buddha Chowk Greater Noida West. It's a 3-side open corner property. The project is properly visible and walkable.
Saya South-X is just 500-meter away from the famous Kisan Chowk of Greater Noida West. Project is just a 10-minutes drive from Knowledge Park-5. Saya South-X is just 10-minutes drive from high-density population area of Crossings Republik & village Shahberi.
Saya South-X is all surroundings with several high-rise residential group-housing societies such as Cherry County, Supertech Eco Village, RG Residency, Ajnara Home, etc. So can say that the location of Saya South-X is very impressive.
Possession | Construction Update
At present, the Saya South-X (Mall of Saya) is under construction. The promised date of delivery of the project is in the year of  September 2023. Saya South-X RERA Registration No: UPRERAPRJ17950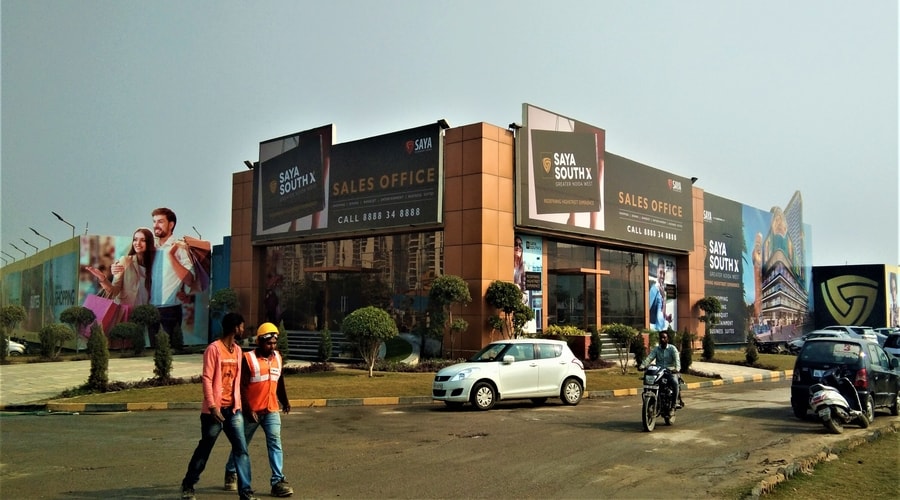 Drawbacks | Bad Factors
The Kisan Chowk and Buddha Chowk of the Noida Extension have oversupplied commercial projects. This location already crosses the limit of commercial property development. Actually, there is no need for any new commercial projects at this location.
We strongly advise avoiding completely new launch, soft launch and primary stage under construction commercial projects of the Kisan Chowk & Buddha Chowk of Greater Noida West.
There is no doubt that Saya South-X Mall, Noida Extension is a prime location project but in this prime location, there are more than 10 mega Mall type commercial projects is already under construction within a radius of 500-meter, such as Gaur City Centre, Gaur City Mall, ATs Kabana High, Galaxy Diamond Plaza, Boulevard Walk Mall, Galaxy Blue Sapphire Plaza, Aims Central Plaza, Gaur World Street, Mahagun Marina Walk, IDI London Mart, PKS Town Central, Fusion Ufairia, NX-One, Sarvottam Golden-i, etc.
There is a very big gap in demand and supply. The supply is very high in comparison to demand. All the above said commercial properties/projects are creating investment competition at this location. So in future investors can face problems in leasing and selling their retail commercial shops and office spaces, studio apartments, serviced apartments in all the above said commercial projects. 
Now the question is that, what's the logic behind all these oversupply commercial? Is there any limit? Actually, there is no proper planning and re-planning for commercial development by the concern development authorities Of Uttar Pradesh government. i.e. Noida Authority (Greater Noida Authority).
How much commercial property is needed and when it is needed the Uttar Pradesh government has no planning. Actually, it's a System failure and we all are the victims of this pre-planned cheating.
As we analyze that the Mall of Saya, commercial spaces have a loading of more than 60%, it means a small shop of around 600 sq ft, may end only 240 sq ft carpet area. And it is too much. And so far none of the NCR builders did such too much loading on the super area in their commercial projects.
The Maximum Mall or Mall type properties are not the good and safe investment options in the Ghaziabad, Noida and Greater Noida area. The maximum investors who invested in Mall type properties are in 99% loss.
Actually, only a few Malls is running fine in Ghaziabad, Noida and Greater Noida area such as Shipra Mall, GIP Mall, DLF Mall of India, etc otherwise all other Mall type properties are the investment of 99% loss.
The construction and possession of the project may depend on the sale of shops/spaces, so the project may be the delay.
Advice
A point to be noted that according to our experience that investment in any retail commercial shop/project should be done only when its external structure is visible. Only just looking at the map or in the soft launch or pre-launch stage of any retail commercial project and investing in may be very risky
For a small investor, it's better to go for small residential societies/sector markets of Noida Extension and visible/pickup road facing ground floor retail commercial shops.
If anyone wants to invest in this location of Noida Extension (Kisan Chowk & Buddha Chowk) commercial properties we advice prefer advance stage construction projects or ready to move projects. We strongly advise avoiding soft launch/pre-launch/new launch/primary stage under construction projects of this location completely.
The commercial project which will give possession first at this location of Kisan Chowk & Buddha Chowk of the Greater Noida West can give better returns in compression of other commercial projects of this location. Our investments better growth depends on possession first. Because of at present there are no ready to move Mall type property/project available in this location of Noida Extension.
It is probably not the right choice of investment for those who are looking for ROI in the next year or so. There may not be a real appreciation of value for resale in the next couple of years. The prices won't very much hike at least for a couple of years because of the huge unsold commercial properties available at this location of Kisan Chowk & Buddha Chowk Noida Extension.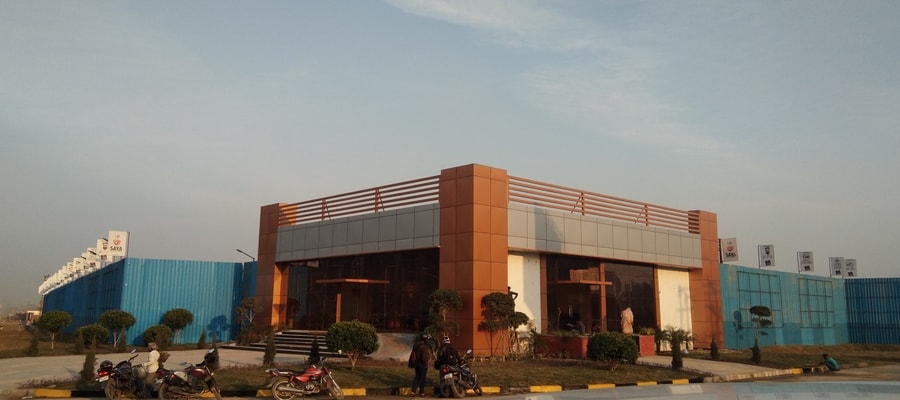 Key Point
This is really very strange, that there are more than 50-Screen/Multiplex proposed at this location of Kisan Chowk & Buddha Chowk of Greater Noida West. Can't Understand the logic behind 50-Screen/Multiplex for an under developing locality. While if I compare this location to Indirapuram, where only three Mall and approx 12-screens. While the Indirapuram is a high-density population area.
Advantages | Good Factors
Saya South-X is perfectly designed for maximum visibility. Lower ground & ground floor retail shops of this project are properly visible and walkable, especially the 60-Meter & 24-meter road facing shops.
Saya South-X Business Suites can be a good investment option if they are pre-leased to any reputed hospitality brand. The Mall of Saya has the proper parking space for stakeholders and visiting guests.
Products & Developer
Saya South-X is under developing by the Saya builders (Forever Infrabuild India LLP). It's a Mall type of commercial property. The project is consists of retail shops, Business Suites, Banquet Halls, Hotel, food courts, 11-screen multiplex, and entertainment facilities, etc.
Builders Profile | Track Record
| | |
| --- | --- |
|   | |
| PREDECESSOR | Saya Homes Private Limited, Saya Buildcon Private Limited, Saya Buildcon Consortium Private Limited |
| FOUNDED | 2006 |
| FOUNDERS | Vikas Bhasin |
| KEY PEOPLE | Vikas Bhasin |
| COMPANY | PROMOTERS | Saya |
| PRODUCTS | Commercial Offices, Retail, Shopping Mall |
| AREA SERVED | Ghaziabad, Greater Noida West |
| PROJECTS COMPLETED | None |
| PROJECTS ONGOING | Saya South-X |
| DELIVERY TRACK RECORD | Poor |
| NET WORTH | |
| STRENGTH | |
| COMMITMENT | Delay possession, Investment can be stuck |
| RISK | Updating soon… |
| DEBT | Yes |
| LITIGATION  | Facing corruption & unfair trade practice charges in Indian courts |
| OFFICE ADDRESS | 10/1 at 10, Vaibhav Khand, Indirapuram, Ghaziabad – 201014, (U.P) Phone: 0120 – 4656200, +91 – 8888728888 |
| BUILDER CATEGORY | SILVER |
Price | Lease Price
Saya South-X retail shops & kiosks are available in sale and resale at the price approx:-
| | | |
| --- | --- | --- |
|   |   |   |
| FLOOR | UNIT TYPE | PRICE (PSF) |
| Lower Ground | Retail Shop | 19,000-22,000 |
| Lower Ground | Kiosks | 15/- to 46/- Lakh |
| Ground Floor | Retail Shops | 20,000-24,000 |
| First Floor | Retail Shops | 15,000-19,000 |
| Second Floor | Retail Shops | 15,000-17,000 |
| Third Floor | Retail Shops/Dining | |
| Fourth Floor | Multiplex/Dining | |
| Fifth Floor | Multiplex/Banquets | |
| Sixth Floor | Banquets | |
| 7TH to 25TH Floor | Business Suites | |
| | | |
| | |
| --- | --- |
|   |   |
| OTHER CHARGES | PRICE |
| PLC 130 Mtr Road | 10% of BSP |
| PLC 60 Mtr Road | 7.5% of BSP |
| PLC 24 Mtr Road & Atrium | 5% of BSP |
| Corner PLC | 2.5% of BSP |
| Lease Rent | 390 PSF |
| EEC | 195 PSF |
| FFC | 195 PSF |
| Power Backup | 25,000/- Per KVA |
| Electric Meter | 15,000 |
| IFMS | 195 PSF |
| | |
The price is slightly high for investment. The price of other charges is also on the very higher side.
Conclusion
The investment in Saya South-X (Mall of Saya) may take a very long time to grow. So invest carefully.
NOTE: BEFORE INVESTING DO YOUR OWN RESEARCH