CPR Ratings


As per Location
MMR 52nd Avenue is situated on the main road of sector 52 Noida. It's a 3-side open corner property. The project has a wide frontage. The project is at the front of sector 52 Noida metro station.
MMR 52nd Avenue is just 25-minutes drive from Hindon Domestic Airport. The project is just 10-minutes drive from NH-24 Highway. MMR-52nd Avenue is just 5-minutes drive from Noida elevated road. The project is just 20-minutes drive from Noida Greater Noida Expressway.
MMR 52nd Avenue is the central location of high-density population areas of central Noida such as sector 51, 52, 57, 60, 61, 70 and sector 71 Noida. Overall, the MMR 52nd Avenue is an approachable location project.
Possession | Construction Update
This is probably the most uncertain query of the entire project. The MMR 52nd Avenue project was started in the year 2013. The promised date of delivery/possession of the project was set for the month of December 2015. But the project is still under construction. The possession date has been changed several times already with new completion target dates and yet there has been no significant progress. After RERA comes into force, the revised possession date is  31-12-2020. RERA Registration No. UPRERAPRJ7156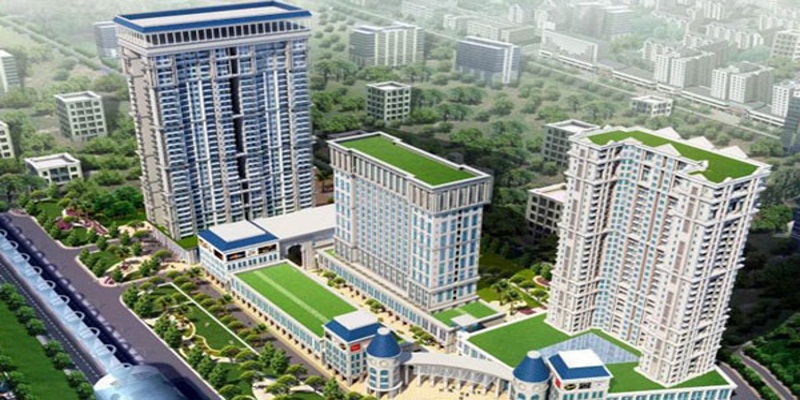 Advantages | Good Factors
MMR 52nd Avenue is a project offering the perfect integration of retail, commercial, hospitality and residential lifestyles in a single compound. The project is appealing not just from a design and concept perspective but the blueprint reveals that it would be functionally attractive too. The project dubbed as "MMR 52nd" will have five different sections to it namely Hospitality, Business first, Leisure, Entertainment and Domicile.
MMR 52nd Avenue is very well connected to the multiple public transportations and other civic facilities. The sector 52 metro station in Noida is the closest to this project.
MMR 52nd Avenue is right in the middle of several high-density localities of central Noida such as sector 51, 52, 57, 60, 61, 70,  and sector 71 of Noida. There is more than 50-thousand urban rich residential population. And that is a very good sign for investment in MMR-52nd Avenue.
Commercial Real Estate Project Investment Criteria Table
MUST REQUIRED FACTORS
ACTUAL FACTS-MMR 52ND AVENUE

GRADING

Urban Rich Gentry

Upper Middle Class, Middle Class, Urban Poor. Within walking distance several residential societies.
A
Connectivity
10-Minute drive from- NH-24, Sector 121 Noida.
Nearest Metro Station Walking distance (Sector 52)
Domestic Airport-18.8Km (Hindon Airport)
A

Layout Design

Impressive layout design, International standards office space
A

Multiple Entries

Yes More Than 6 Entries
A1
Visibility
Highly visible, 3-side open corner property, very wide frontage
A1
High-Density population
More than 50-Thousand Flats and 2-Lakh urban rich people within walking distance and can denser more in upcoming years.
A1
Youthful Footfall

Sector-57 & Sector 62 Noida

A
Public Security
Police Station -10-Minute
Fire Station 10-Minute
A
Industrial Area
Within 3-Km, Sector 63, 64, 65 Noida
A
Urban/Civic Facilities
Maximum facilities available
A1
Developers Credibility

Zero

C
Price Comparison
Little bit high
A
Competitors

Spectrum Metro

,

Anthurium

B

Expected ROI

4% to 6% Annually
B
Drawbacks | Bad Factors
As we have seen above, the entire construction of the project MMR 52nd Avenue is planned well and the locality is also chosen well. The drawback here though is the fact that the construction has completely slowed down. With a possession date set in another year's time, the project has a long way to go for completion. It seems to have already outlived its past expectancy date of completion which has caused a lot of worry in the minds of investors.
The investors who have their money into the project are already trying to sell their property and recover their capital. It has been a cumbersome experience for investors who deal with soft launch projects along Noida or any other location along Delhi NCR.
Maximum Mall or Mall type properties are not the good and safe investment options in the Ghaziabad, Noida and Greater Noida area. The maximum investors who invested in Mall type properties are in 99% loss.
Actually, only a few Malls is running fine in Ghaziabad, Noida and Greater Noida area, such as Shipra Mall, GIP Mall, DLF Mall of India, etc otherwise all other Mall type properties are the investment of 99% loss.
The construction and possession of the project depend on the sale of shops/space so the project may be the delay.
The Maintenance cost is always high in Mall type properties and after completion possession, investors may face problems in leasing their retail space in this project.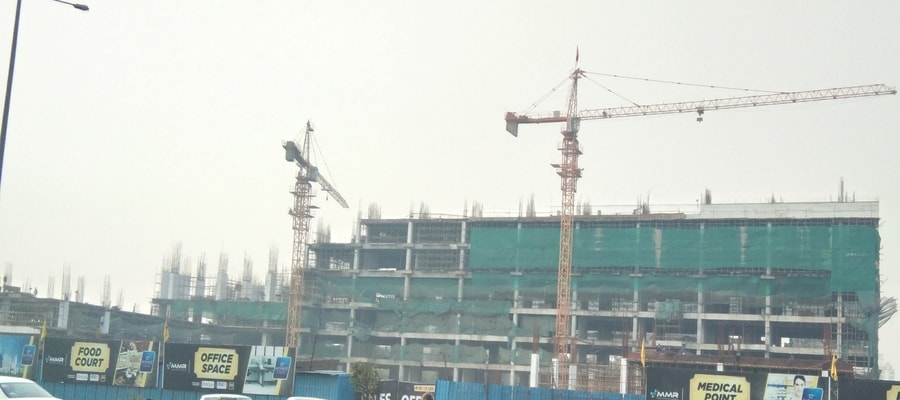 Advice
The property MMR 52nd Avenue is best suited if you are willing to hold your investment onto a longer-term for returns as it would take a couple of more years (or even more) for completion of the property and the market to appreciate in the locality. As for the location of the property is concerned it is a prime locality with all required amenities located within 3-5 km. And this is subjected to the completion of this project on the set time,  which seems fairly uncertain.
It is probably not the right choice of investment for those who are looking for ROI in the next year or so. Given the doubts surrounding the possession date, there may not be a real appreciation of value for resale in a year. In fact, investors who are trying to make a sale of their property in the MMR 52nd Avenue are now struggling to get the desired price. Despite having brought their prices down, there aren't any takers to buy these properties.
These days the developer of the MMR 52nd Avenue, offering many attractive schemes to customers to invest in this property such as 12% assured return, lease guaranty, and other greedy payment plans, etc.
Basically, the assured return & lease guaranty is nothing, the real estate developers sell their low money property at a very higher price and return your hard-earned money in the name of the assured return & monthly rent to you in the form of EMI.
Actually, the assured return plan is a trick of fundraising. The Real estate developer sells its non-salable property with a greedy plan on a very higher price, to innocent customers in the name of assured return. They are making you fool.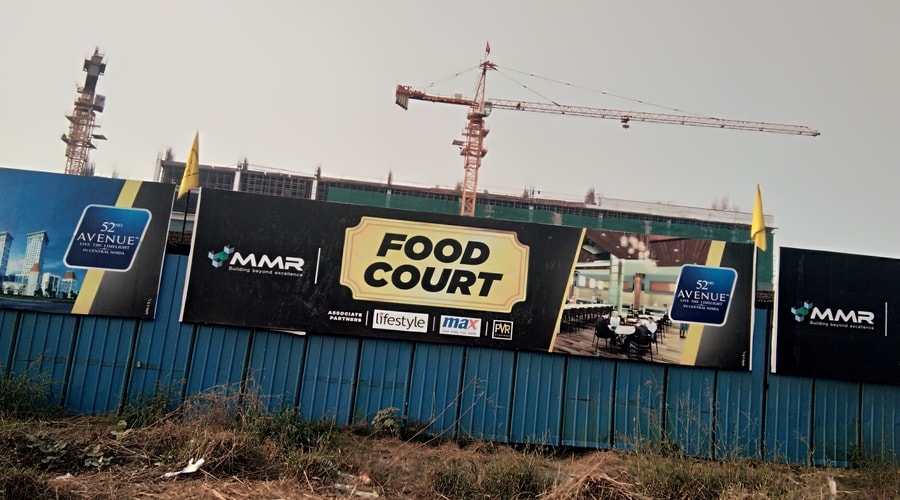 Products & Developer
MMR 52nd Avenue is under developing by the MMR Group (MMR Saha Infrastructure Private Limited). It's a Mall type commercial project. The project consists of commercial retail shops, retail space, Hyper Market, Multiplex, Anchor Stores, Kids play area, Entertainment Zone, Restaurants, Multi-use Studio apartments, Serviced Apartments, Exclusive Medical Clinics, and Office Spaces, etc. Shops and office space are available in various sizes.
Builders Profile | Track Record
 
PREDECESSOR
Mmr Construction Company Private Limited, Mmr Infrastructure Developers Private Limited,  MMR Saha Infrastructure Private Limited
FOUNDED
2008
FOUNDERS
Mahipal Singh Raghav
KEY PEOPLE
Mohit Singh Raghav, Rahul Raghav,
COMPANY | PROMOTERS
MMR
PRODUCTS
Commercial offices, Shopping Malls, Hotels, Leisure & Hospitality, Retail, Apartments
AREA SERVED
Delhi-NCR (Delhi, Noida, Greater Noida, Ghaziabad)
PROJECTS COMPLETED
MMR Corporate Greens, MMR Grand Mall,
PROJECTS ONGOING
MMR 52nd Avenue
PROJECTS UPCOMING

 

DELIVERY TRACK RECORD
very poor
NET WORTH
STRENGTH
COMMITMENT
Zero
RISK

Delay possession, Investment can be stuck

DEBT
Yes
LITIGATION 
Facing unfair trade practice charges in Indian courts
OFFICE ADDRESS
MMR House, B-11
Noida-201307
Phone: +91-9540666608
+91-8588944468
Email: info@mmrgroup.co.in
BUILDER CATEGORY

BRONZE
Price | Lease Price
MMR 52nd Avenue retail shops, office spaces, serviced apartments, studio apartments, food courts, medical points sale price start from approx:
UNIT TYPE
FLOOR
PRICE (PSF)
OTHER CHARGES
Retail Shop
Ground
29,995
EEC/FFC 100/- PSF
Retail Shop
First
24,995
IDC 100/- PSF
Retail Shop
Second
20,000
CRF 150/- PSF
Anchor Store
160,000
PBC 20,000 Per KVA
Food Courts
3rd Floor
12,000
Club Membership 3/- Lakh
Medical Point
4th-5th
9,000
Car Parking 5,50000/- Optional
Office Space
7th-10th
8,750
Lease Rent-As per Actuals
Studio Apartments
12th-18th
8,995
PLC-Corner/Road/Atrium
The price is already on the very higher side and there is hardly any chance of early growth. The price of other charges is also on the very higher side.
Conclusion
The price is already on the very higher side and there is hardly any chance of early growth. So invest carefully.
NOTE: BEFORE INVESTING DO, YOUR OWN RESEARCH