CPR Ratings


As per Location
The MTPL Promenade is situated at sector 115 Landran Road Mohali (SAS Nagar). Chandigarh international airport is just 30-minutes drive from MTPL Promenade. The project is exactly facing the main Kharar Landran Road.  The MTPL Promenade is all surrounding by several residential group housing societies of sector 115 & sector 116.
Prominent institutions & schools are in the closest proximity such as DPS (Delhi Public School), Ashmah International School, Govt Polytechnic College Mohali khunimajra, etc.
The MTPL Promenade is the central location of sector 115 & sector 116. which is already habited area of Greater Mohali. Overall, MTPL Promenade is a good location project.
Possession | Construction Update
MTPL Promenade is in the pre-launch stage. The project is in the process of RERA registration.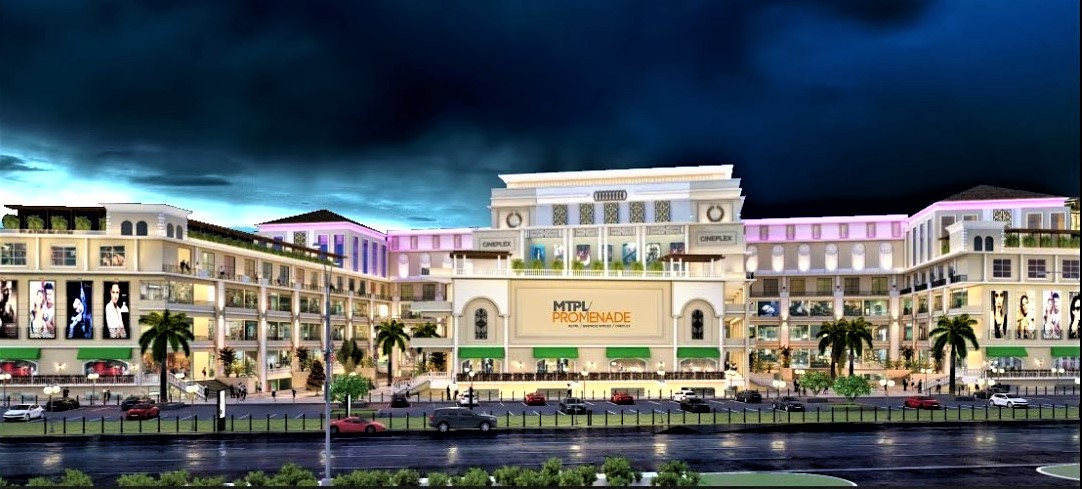 Drawbacks | Bad Factors
It is no doubt that the MTPL Promenade is an approachable location project but the primary layout design of retail space is very congested. The project has an E-shape layout. Maximum E-shape layout design commercial complex is not working fine. Apart from some ground-floor retail shops, all the other floors retail shops layout design is not very impressive.
Maximum Mall or Mall type properties are not the good and safe investment options in Chandigarh area. The maximum investors who invested in Mall type properties are in 99% loss.
Actually, the Malls which are up for sale get defective. Only those Malls are working fine which has at least 75% stake for lease otherwise all other Mall type properties are the investment of 99% loss.
These days developer of the MTPL Promenade, offering some attractive schemes to customers to invest in this project, like the 12.5 % assured return, lease guaranty, and other greedy payment plans.
That builder/project who offers this kind of investment offers is not in the category of secure investment, as our experience most assured return properties are the investment of loss.
Do not put your hard-earned money in the builder's seduction, assured return & lease guaranty properties are always an investment of risk. So invest wisely.
Basically, the assured return & lease guaranty is nothing, the real estate developers sell their low money property at a very higher price and return your hard-earned money in the name of the assured return to you in the form of EMI. Actually, they are making you fool.
Actually, assured return and pre-leased guaranty payment plans are the tricks of fundraising by fooling the public.
Advice
A point to be noted that according to our experience the investment in any retail commercial shop/project should be done only when its external structure is visible. Only just looking at the map or in the soft launch or pre-launch stage and investing in it is very risky.
Advantages | Good Factors
The sector 115 & sector 116 of Kharar Landran Road is already inhabited areas. And MTPL Promenade is right in the middle of these sectors. There are more than 07-thousand flats and an urban rich residential population of more than 21-thousand peoples. And which is a very good sign for investment in this commercial project.
There are several urban rich residential group housing societies are also in the close proximity of MTPL Promenade such as Paradise Homez, Divine World, Ansal API Palm Grove, Ansal API Orchard County, Sanskriti Apartments, Emerging Heights 3, Surya Enclave, Ansal Orchard County Tulip and Carnation, Ansal Orchard County Tulip and Carnation, Ansal API Golf Links 2 , Parkwood Glade, Ansal API Victoria Floors, etc.
The project has proper parking spaces for visiting guests and stakeholders.
Products & Developer
The MTPL Promenade is under developing by the MTP group (Mona Township Private Limited). The project is consists of retail shops, office space, food courts multiplex, etc.
Builder Profile
The MTPL group is a new entry in the Chandigarh real estate market.
Price | Lease Price
MTPL Promenade retail shops, office spaces, multiplex price starts at approx:-
| | | |
| --- | --- | --- |
| UNIT TYPE | SIZE (Sq Ft) | PRICE (PSF) |
| Retail Shops | 900 | 4499 |
| Office Space | 500 | 3999 |
| Multiplex | 8750 | 6286 |
| | | |
The price is reasonable for investment.
Conclusion
Profitable resale in assured return property/projects takes a very long time, can say minimum 10-years or even more. There are several examples of flop assured return projects in PAN-INDIA. Actually, assured return and pre-leased guaranty payment plans are the tricks of fundraising by fooling the public.
[Total: 2 Average: 3]
NOTE: BEFORE INVESTING, DO YOUR OWN RESEARCH