CPR Ratings


As per Location
The Oh My God (X Noida) is situated in the 120 ft wide sector road of the sector 129 Noida. Its a corner property with both side wide roads. The beauty of this project is that this project is really very close to the Noida Expressway. So can say that the location of the OMG is very impressive.
Possession | Construction Update
This is probably the most uncertain query of this project. This project was Pre-launched and launched in the year of 2013-2014 and project completion date was set for the month of December 2017.  The developer, sets December-2019, for completion of X-Noida Mall. The RERA completion/possession date of this project is 31-08-2022 ( RERA Registration No. UPRERAPRJ11141)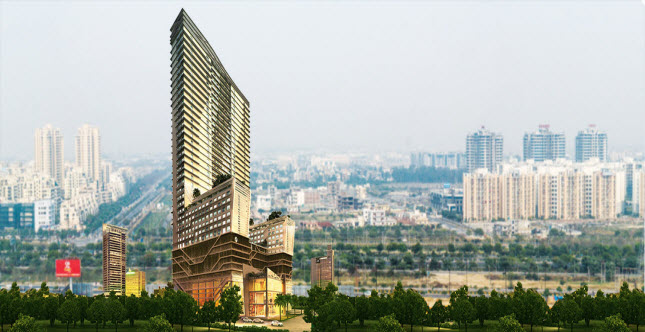 Drawbacks | Bad Factors
Actually, at present the sector 129, Noida is a low-density population area or can say that there is no residential population in this area and without any residential population there is no mean of investment in a retail commercial Mall etc.
All, nearby sectors from this project are Industrial/Educational and Office space type and there is too much availability for this type of Retail spaces, studio apartments and office spaces in this area of Noida Expressway.
The Oh My God is the first project by Bayaweaver Limited and they have no experience. The X-Noida Mall retail commercial shops may be not very fruitful for investment because there is no urban residential population on this side of the Noida Expressway sectors.
The Maintenance cost is always high in a Mall type commercial properties. Maintenance cost will be approx INR Rs 20-25 per sq ft plus taxes approx.
The maximum Mall or Mall type properties are not the good and safe investment options in the Ghaziabad, Noida and Greater Noida area. The maximum investors who invested in Mall type properties are in 99% loss.
Actually, only a few Malls is running fine in Ghaziabad, Noida and Greater Noida area, like The Shipra Mall, The GIP Mall, The DLF Mall of India etc otherwise all other Mall type properties are the investment of 99% loss.
The sector 129, Noida is an IT-Educational services sector, there are several ready to move and under construction Retail spaces, Studio Apartments, IT Park projects/properties and educational institutes in this area.
There is a big gap in demand and supply. The supply of the Retail space, Studio Apartments and Office space type projects/properties in this area are very high. But demand is very limited. So, at present, the investment in the Oh My God Mall commercial retail and office space may not very fruitful.
The public transport facilities to the Oh My God (OMG) Mall are very poor or can say there are no public transport facilities available.
The construction and possession of this project may depend on the sale of shops/space so the project may be the delay.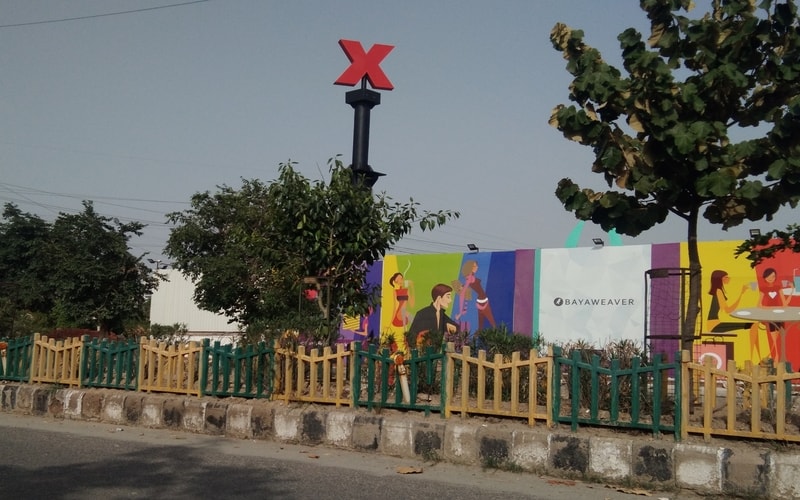 Products & Developer
The Oh My God (OMG) commercial project is situated in the sector 129, Noida, Greater Noida Expressway. This project is under developing by the Bayaweaver Limited (a BOP Group Ventures). The Oh My God consists of centralized AC commercial retail shops, Multiplex and Studio Apartments. Now this projects Mall name is X-Noida.
Key Point
The surrounding of the Oh My God, there are so many ready to move retail spaces, Studio Apartments and office space projects, like The Logix Technova, The Assotech Business Cresterra, The Advant Navis, The Ansal API Corporate Park, The Express trade Tower-2 and the under construction projects The Paras One33, JC World Mall, Alphathum and The Urbtech Trade Center etc. The most of the above-said projects Retail space, studio apartments, and office space are not yet sold or leased.
The Oh My God project has been launched and re-launched several times already with new completion target dates and yet there has been no significant progress. There is not much help from the Noida authority as well on this issue.
The investors who have their money into the Oh My God project are already trying to sell their property and recover their capital. It has been a cumbersome experience for investors who deal with soft launch projects along Noida or any other location along Delhi NCR.
The Noida Authority has turned this area of the Delhi NCR into a nuisance zone. The builders are fear free and are allowed to do all sorts of nasty things.
REVIEW: VIDEO X-NOIDA

Advice
The Advant Navis business park and under construction  Alphathum is the much better project/location for investment.
For a small investor, it's better to go for small residential sector markets and visible/pickup road facing ground floor retail commercial shops in a high-density residential area.

For the commercial retail shop investment, we advice avoid sector 129, 133, 128, 127, 152 of the Noida Expressway completely.
We strongly advise commercial real estate investors, never invests in any soft launch project, at least in the Noida or any other remote location of the Delhi NCR.
Do not put your hard earned money in the builder's seduction, Assured return and lease guaranty properties are always an investment of risk. So invest wisely.
Basically, the Assured return and Lease guaranty is nothing, the real estate developers sell their low money property at a very higher price and return your hard earned money in the name of the assured return or monthly rent to you in the form of EMI. Actually, they are making you fool.
It is probably not the right choice of investment for those who are looking for ROI in the next year or so. Given the doubts surrounding the possession date, there may not be a real appreciation of value for resale in a year. In fact, investors who are trying to make a sale of their property in the OMG are now struggling to reach their initial investment.
Price | Lease Price
The Oh My God offers the Studio Apartments at the price INR Rs 49/- Lakh to INR Rs 63/- Lakh plus other charges. The retail shop's price starts from INR Rs 11K per sq ft plus other charges.
These days developer of the Oh My God (OMG) commercial project offering buyers so many interesting payments plans to invest in this project/property, commercial retail shops, Studio apartments, and office spaces, like the 12% assured return, lease guaranty, and the 50-50 payment plans etc.
That builder/project who offer this kind of investment offers is not in the category of secure investment. As our experience most assured return and lease guaranty properties are an investment of loss.
The lease guaranty plan is nothing it's a marketing trick to making fool to innocent investors. Actually, there is no any 100% proof of lease guarantees.
Conclusion
Property investment is a huge step and it involves a lot of money. It is therefore important that you review the pros and cons and weigh them before reaching a decision. The investment in Oh My God (X-Noida) may take a very long time to grow. So invest carefully. The Commercial office space and Studio/Serviced Apartments of this project can be a good investment.
NOTE: BEFORE INVESTING DO YOUR OWN RESEARCH