CPR Ratings


As per Location
AMB Selfie Square is situated on the service road of sector 37D, Dwarka Expressway. The project has a very wide frontage. The project is exactly located at the front of Dwarka Expressway. This project is easily visible and walkable from nearby sector roads and from the Dwarka Expressway.
AMB Selfie Square is just 15-minutes drive from NH-8. The project is just 28.4-Km away from IGI Airport. The project is on the proposed metro rail route. AMB Selfie Square is surrounding with several posh residential areas of Dwarka Expressway such as sector 37D, 88A, and sector 88B.
Prominent Schools & Institutions are in close proximity such as Suncity School, Euro International School, Indus Valley Public School, Narayana e techno School, etc. Overall. AMB Selfie Square is an excellent location commercial project.
Possession | Construction Update
The AMB Selfie Square project was launched in the year of 2013. The promised date of delivery/possession was set for the month of December-2017. But the project is still under construction. The project possession date has been revised several times. Several real estate portals showing different possession dates in their advertisement. RERA possession date is August-2022. RERA Registration No 57 OF 2017 DATED 17-8-2017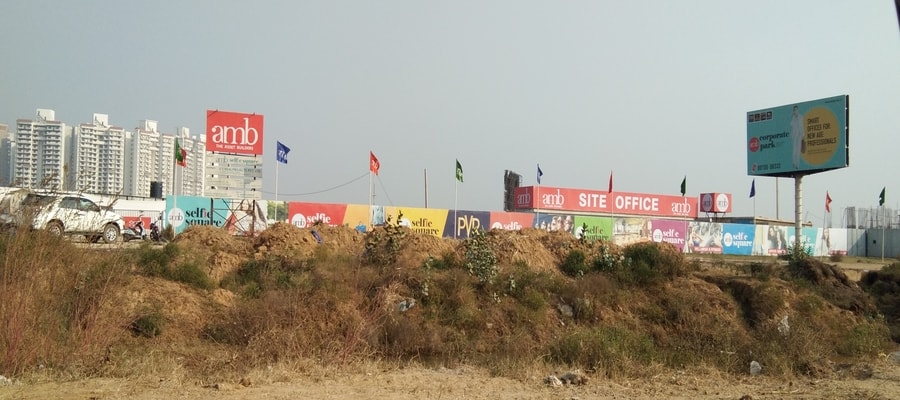 Advantages | Good Factors
AMB Selfie Square is a project offering the perfect integration of retail, commercial, hospitality, Entertainment and Business in a single compound. The project is appealing not just from a design and concept perspective but the blueprint reveals that it would be functionally attractive too. The project dubbed as the "AMB Selfie Square" will have four different sections to it namely the Hospitality, Business first, Leisure, and Entertainment. The design is set to lean towards the contemporary makes making it a premier locale for the desired few.
The layout design of the AMB Selfie Square is also very impressive, the ground floor commercial retail shop looks like the high street open market, especially the Dwarka Expressway facing retail shop. All ground floor retail shops of this project are properly visible and walkable. 
AMB Selfie Square is the central location for several high-rise residential group-housing societies such as Ramprastha The Edge Towers, BPTP Spacio, BPTP Park Generations, Ramprastha The Atrium, Signature Global The Millennia, NBCC Green View Apartments, BPTP Terra, Ramprastha Rise, ILD Engracia, and Ramprastha The Ark etc, which is the biggest plus point for AMB Selfie Square.
The Sector 37D, Gurgaon is a high-density population area. There is a huge urban rich residential population surrounding AMB Selfie Square Mall. There are more than 10-thousand flats and a residential population of more than 35-thousand people in this area, which is also a very good sign for commercial property investment i.e. AMB Selfie Square.
The layout design of commercial office space is also very impressive. The office space is well furnished and designed to cater to every business. The project has a proper parking space for stakeholders and visiting guests. The overall layout design of AMB Selfie Square is excellent.
The AMB Selfie Square is good for retail business startups and office setups.
Key Point | Advice
These days developer of the AMB Selfie Square project offering buyers so many interesting payments plans to invest in this project/property, retail shops, and office spaces such as 12% assured return and lease guaranty payment plans, etc.
That builder/project who offer this kind of investment offers is not in the category of secure investment. As our experience most assured return properties are an investment of loss.
Do not put your hard earned money in the builder's seduction, assured return & lease guaranty properties are always an investment of risk. So invest wisely.
Basically, the assured return & lease guaranty is nothing, the real estate developers sell their low money property at a very higher price and return your hard earned money in the name of the assured return or monthly rent to you in the form of EMI. Actually, they are making you fool.
The AMB Selfie Square has very strong marketing in Delhi-NCR. If you are an investor and have money in your bank/pocket to buy commercial property, don't rely on marketing propaganda. However, things get change drastically when you go to the market to sell anything or even the same property you bought thinking there is a huge demand for it, the same broker tells you, sir,, there is huge downfall and no buyer is in the market or tells you a rate you won't afford to sell and bear huge loss. Moral of the paragraph is that don't believe the builders marketing hype, do your own research or take help of an expert.
The prices won't very much hike at least for a couple of years because of the huge unsold commercial property on the Dwarka Expressway.
The AMB Selfie Square property is best suited if you are willing to hold onto a longer term for returns as it would take a couple of more years (or even more) and the market to appreciate in the locality. As for the location of the property is concerned it is a prime locality with all required amenities located within 3-5 km. And this is subjected to the completion of this project on the revised time frame.
It is probably not the right choice of investment for those who are looking for ROI in the next year or so. There may not be a real appreciation of value for resale in the next couple of year. In fact, investors who are trying to make a re-sale of their property in the AMB Selfie Square, hardly get any client. The resale is not yet to start.
Products & Developer
AMB Selfie Square is under developing by the AMB Group (VS REALPROJECTS PVT.LTD). This project Consist of commercial retail shops, commercial office spaces, food courts, club, Multiplex and entertainment facilities.
Builder Profile
The AMB builder has a good market reputation in Gurgaon. But the AMB builder has the poor record of completing their real estate projects in the set time frame.
Drawbacks | Bad Factors
The Maximum Mall or Mall type properties are not the good and safe investment options in the Gurugram and Delhi area. The maximum investors who invested in Mall type properties are in 99% loss.
Actually, only a few Malls is running fine in Gurugram and Delhi area such as Ambience Mall, DLF Mega Mall, MGF Metropolitan Mall, and Select City Walk, Saket, New Delhi, etc otherwise all other Mall type properties are the investment of 99% loss.
The construction and possession of this project depend on the sale of shops/space so the project may be the delay.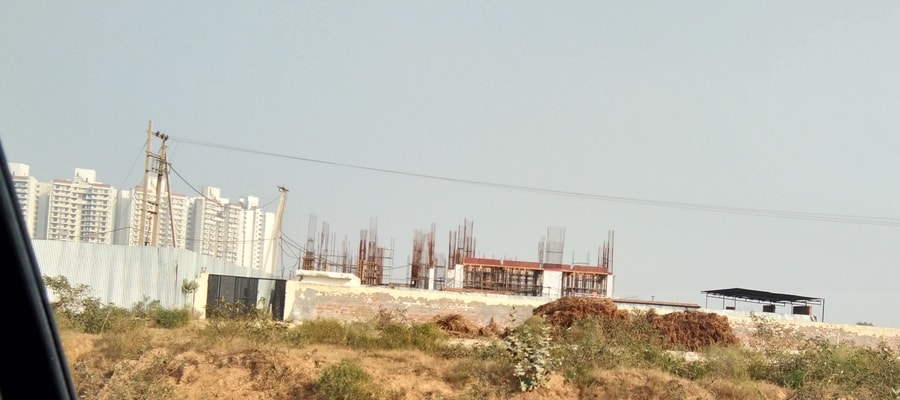 Price | Lease Price
AMB Selfie Square retail shop, office space, serviced apartments sale price start at approx:-
| | | |
| --- | --- | --- |
| FLOOR | CATEGORY | PRICE (PSF) |
| Ground Floor | Retail Shops | 13,000-16,000 |
| First Floor | Retail Shops | 10,000-13,000 |
| Second Floor | Retail Shops | 8000-10,000 |
| Third Floor | Food Courts | 8500-10,000 |
| 5Th-12Th Floor | Office Space | 5500-7000 |
| | | |
The price is reasonable for investment.
Conclusion
Amb Selfie Square may take a long time for completion hence the investment may take a long time to grow. If the project gets early completion then investors may get a minimum of 6% per annum return. So invest carefully.
NOTE: BEFORE INVESTING DO YOUR OWN RESEARCH.