CPR Ratings


As per Location
Raheja Trinity is situated on the Dwarka Expressway. It's a 2-side open corner property, both sides are wide roads. The project is very well connected to sector 83 and sector 84 residential societies
Raheja Trinity is properly visible and walkable to nearby sector roads of the Dwarka Expressway, Gurgaon. So can say that the Raheja Trinity has an excellent location.
Possession | Construction Update
Construction Status
Under Construction
RERA Registration No
Raheja Trinity –

24 of 2017

Start/Launch Date
2013
Possession Date Before RERA

December-2016 (Expired)

Earlier Date of Completion (RERA)

June-2019 (Expired)

Revised Possession Date (RERA)
December-2022
Construction Stage
Primary
Construction Company
Arabtech
Live Updates
COVID-19 Lockdown Status

COVID-19, an event of 'Force Majeure'. Completion/Possession extended for 6 months for all projects expiring on or after 25.03.2020 by the Government.
Drawbacks | Bad Factors
There are more than 10-mega commercial projects are within a radius of 1-Km adjoined to Raheja Trinity such as Vatika Inxt High Street, Ansal Hub-82, V Square 83 Avenue Oodles Skywalk, Ansal Hub 83, Vatika INXT Market Place Phase-1, Vatika INXT City Center, KLJ Square, Vatika Town Square, Vatika Trade Centre,  Orris Business Square, VSR Park Street, Mapsko Shopping Arcade, Elan Miracle and Ameya Sapphire Eighty Three, etc.
So all these Mall type commercial properties are creating investment competition at this location. There is a big gap in demand and supply. The supply is very high in comparison to demand. So the investors can face a very tuff competition for leasing and selling their commercial retail shops and office spaces, serviced apartments, etc in all the above said commercial projects/properties.
Now the question is that, what's the logic behind all these oversupply commercials? Is there any limit? Actually, there is no proper planning and re-planning of concern development authorities Of the Haryana government (GMDA).
How much commercial property is needed and when it is needed the Haryana Government/GMDA/HUDA has no planning.  Actually, it's a System failure and we all are the victims of this pre-planned cheating.
There is no planning or re-planning for commercial development in the new Gurgaon area by the concerned development authorities or can say the failure of the government.
ALSO READ: How To Double Your Money Within 3 to 6 Years
The sectors 84, 83, 82, 82A, and sector 85 of Dwarka Expressway residential societies have their own retail shop market cater to daily needs and other retail needs of their residents. So that's why Raheja Trinity may not safe for commercial investment.
Maximum Mall or Mall type properties are not good and safe investment options in Gurugram & Delhi area. The maximum investors who invested in Mall type properties are in 99% loss.
Actually, the Malls which are up for sale get defective. Only those Malls are working fine which has at least a 75% stake for lease only, such as Ambience Mall, DLF Mega Mall, MGF Metropolitan Mall, and Select City Walk, Saket, etc otherwise, all other Mall type properties are the investment of 99% loss.
The Maximum Mall or Mall type properties are not the good and safe investment options in the Gurugram and Delhi area. The maximum investors who invested in Mall type properties are in 99% loss.
The construction and possession of this project depend on the sale of shops/space, so the project may be the delay.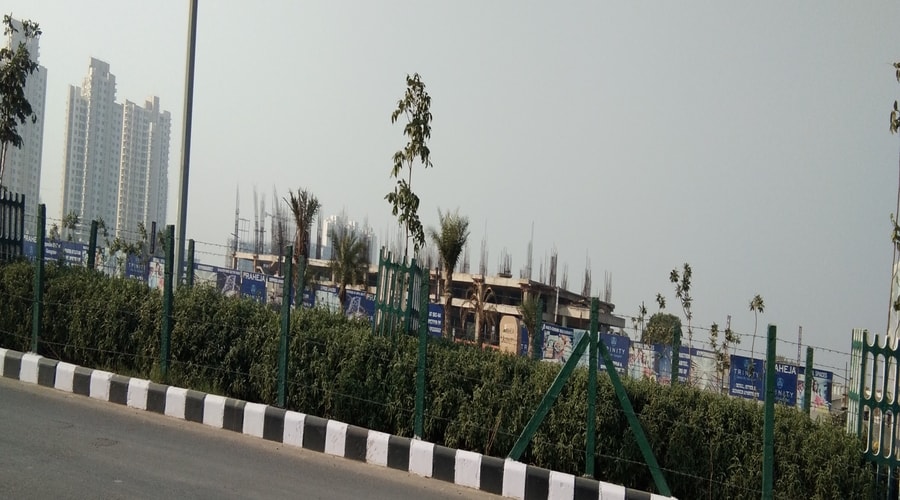 Raheja Trinity Price & Developers Delivery Track Record Comparison With Other surrounding Commercial Projects Of Dwarka Expressway
PROJECT NAME
PRICE (PSF)
POSSESSION RECORD/REMARKS

Raheja Trinity

Retail-12,000
Studio-8,990

Delay, possession date changed several times

Elan Miracle

Retail-10,250-15,500

can be delay

Pivotal 84 Down Street

Retail-18,000

Ready

Sapphire Eighty-Three

Retail-18,000-38,000




Studio-

Ready, occupied, investors, getting high returns
Advice
For a small investor, it's better to go for small residential sector markets and visible/pickup road facing ground floor retail commercial shops in a high-density residential area. For the commercial retail shop investment, we advice avoid big primary stage under construction, pre-launch, soft-launch commercial projects of sectors 84, 83, 82, 82A, and sector 85 of the Dwarka Expressway completely.
It is probably not the right choice of investment for those who are looking for ROI in the next year or so. Given the doubts surrounding the possession date, there may not be a real appreciation of value for resale in a year. In fact, investors who are trying to make a sale of their property in the Raheja Trinity are now struggling to reach their initial investment.
The drawback here though is the fact that the construction has completely slowed down. With a possession date set in another year's time, the project has a long way to go for completion. It seems to have already outlived its past expectancy date of completion which has caused a lot of worry in the minds of investors.
The project has been relaunched several times already with new completion target dates and yet there has been no significant progress. There is not much help from the GMDA (Gurugram Metropolitan Development Authority) as well on this issue. The investors who have their money into the project are already trying to sell their property and recover their capital. It has been a cumbersome experience for investors who deal with soft launch projects along with Gurgaon or any other location along with Delhi NCR. So at the present stage investment in the Raheja Trinity project is very risky.
Commercial Real Estate Project Investment Criteria Table
MUST REQUIRED FACTORS
ACTUAL FACTS-RAHEJA TRINITY

GRADING

Urban Rich Gentry

Middle Class. Within 500-Meter Ss, Alpha, Antriksh, Spaze, Pivotal, etc
B
Connectivity
Nearest Metro Station 32-Minutes (Huda City Center)
International Airport-27.3Km (IGI Airport
B

Layout Design

Good Layout
B

Multiple Entries

Yes
A
Visibility
Highly visible, corner property
A
High-Density population
Within a radius of 500-meter more than 10-Thousand Flats and 25-Thousand urban rich people and can denser more in upcoming years.
A
Youthful Footfall

Yes

A
Public Security
Police Station -15-Minute
Fire Station 15-Minute
A
Industrial Area
within 3-Km
A
Urban/Civic Facilities
Maximum facilities available
B
Developers Credibility

Zero

D
Price Comparison
Competitive price
A
Competitors

Several competitors within a radius of 500-Meter

C

Expected ROI

May takes a long time

C
Also Read : Review: Investment in Raheja Mall, Sector 47, Sohna Road, Gurugram, Loss or Profit
Builders Profile | Track Record
 
PREDECESSOR
Raheja Developers Private Limited
FOUNDED
1990
FOUNDERS
Navin M Raheja
KEY PEOPLE
Navin M Raheja, AR. Nayan Raheja, Sanjana Rana, Sangita Kumar
COMPANY | PROMOTERS
Raheja Developers
PRODUCTS
Apartments, Commercial Offices, Shopping Malls, Retail, Hotel, Lesure & Hospitality
AREA SERVED
Delhi, Gurgaon
PROJECTS COMPLETED
Raheja Mall
PROJECTS ONGOING
Raheja Trinty
DELIVERY TRACK RECORD
Very Poor, delay possession
NET WORTH
STRENGTH
COMMITMENT
Zero
RISK
delay possession, long wait, investment can be stuck
DEBT

Updating soon

LITIGATION 
Facing unfair trade practice charges in Indian courts
OFFICE ADDRESS
Corporate Office
Raheja Mall, 3rd Floor, Sector-47, Sohna Road, Gurugram – 122001, Tel: +91-0124-4681111, Email: marketing@raheja.com

BUILDER CATEGORY

BRONZE
Products & Developer
The Raheja Trinity commercial project is situated in sector 84, Gurugram (Gurgaon). This project is under development by the Raheja Developers Limited. It's a mix of land use commercial project/property. The Raheja Trinity consists of commercial retail shops, office spaces, clubs, serviced apartments, and entertainment facilities.
Price | Lease Price
Raheja Trinity retail shops, office space & serviced apartments price start at approx:-
| | | | |
| --- | --- | --- | --- |
| UNIT TYPE | FLOOR | SIZE (PSF) | PRICE (PSF) |
| Retail Shops | Ground Floor | 512-565 | 12,000 |
| Retail Shops | First Floor | 504-565 | 9000 |
| Office Space | | | |
| Serviced Apartments | Second Floor | 513-625 | 8990 |
*Other charges extra.
These days Developer of the Raheja Trinity sector-84, New Gurgaon offering many attractive schemes to customers for investment in this property, like the 12% assured return, lease guaranty, and other greedy payment plans.
As our experience that builder/project who offers this kind of investment offers are not in the category of secure investment. As our experience most assured return properties are the investment of loss.
Do not put your hard-earned money in the builder's seduction, assured return and lease guaranty properties are always an investment of risk. So invest wisely.
Basically, the Assured return and Lease guaranty is nothing, the real estate developers sell their low money property at a very higher price and return your hard-earned money in the name of the assured return or rent to you in the form of EMI. Actually, they are making you fool.
Conclusion
After analyzing all the above facts, that the investment in the Raheja Trinity may take a very long time to grow. So invest carefully.
[Total: 6 Average: 1.8]
NOTE: BEFORE INVESTING, DO YOUR OWN RESEARCH