CPR Ratings


As per Location
The Orbit Plaza is located on the main roundabout of the Crossings Republic. The project is surrounding with several residential societies of the Crossings Republik. It's a 2-side open corner property. The project is properly visible.
Possession
The Orbit Plaza is in the service since the year 2016.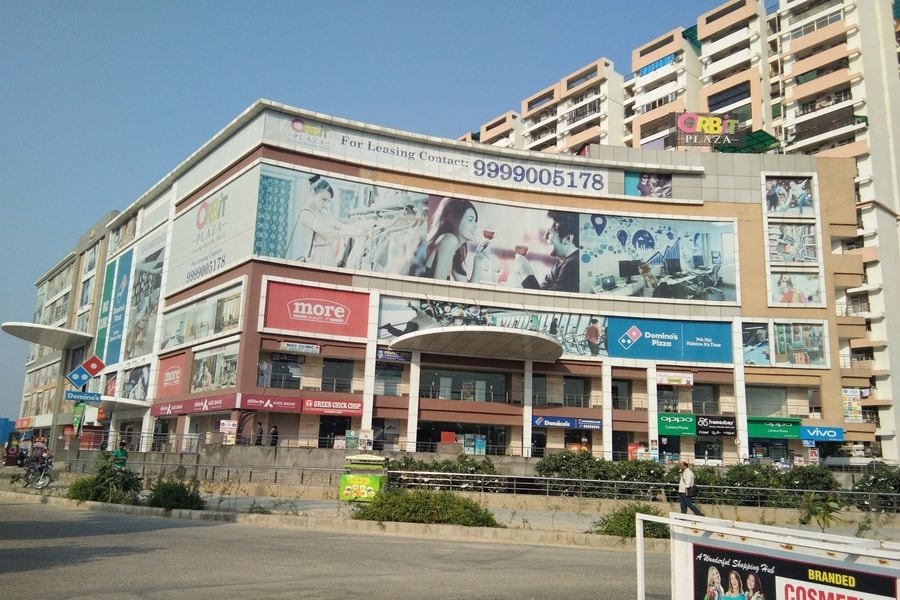 Drawbacks | Bad Factors
It is no doubt that Orbit Plaza is a good location commercial project, but in this good location, several other Mall type commercial properties also exist such as Panchsheel Square, Ajnara Arcade, Newtech La Gracia, etc. All the above-said projects are within a radius of 100-meter.
So all these mall type properties are creating investment competition at this location. There is a big gap in demand and supply. The supply is very high in comparison to demand. So investors are facing problems in leasing or selling their retail shops and office spaces in all the above said commercial projects.
If you are looking to Orbit Plaza from outside road, You find that there are many branded retail stores signboards and you feel that It's a big branded and fully functional Mall, but the truth is not that, actually the developer of this project cleverly paste big brand posters everywhere in this property front facing walls. So that builder can manage sale, purchase, and rantings.
Mostly, retail shops & office spaces are vacant in Orbit Plaza, only some front-facing lower ground floor & upper ground floor retails shops are working fine, otherwise all other floors retail and office space are vacant. Only a few brands such as  Axis Bank, Dominos, and More supermarket are operational here.
The parking is a very big issue, there are no parking facilities in this project, you can park your vehicle at the outside road of the Orbit Plaza.
Reason being not working fine
Actually, Crossings Republik is a very crowded place and there are so many ready to move residential societies with a huge population. But, every residential society has its own retail shop market to cater to daily needs and other retail needs of its residents. So that's why Orbit Plaza and other Mall type properties/projects are not working fine.
Products & Developer
Orbit Plaza is developed by the Paramount & Ajnara Group. Orbit Plaza consists of commercial retail shops & office spaces.
Builder Profile | Track Record
 
PREDECESSOR
Ajnara Farms and Services Limited
FOUNDED
1991
FOUNDERS
GP Gupta, Ashok Gupta, Vinod Gupta
COMPANY | PROMOTERS
Ajnara India Limited
PRODUCTS
Apartments, Retail, Shopping Malls
AREA SERVED
Delhi-NCR (Delhi, Noida, Greater Noida, Ghaziabad)
PROJECTS COMPLETED
Ajnara Arcade, Orbit Plaza, Ajnara Le-Mart
PROJECTS ONGOING
Ajnara City Centre,

Ajnara Fragrance Walk

UP-COMMING PROJECTS
Ajnara Times Square
DELIVERY TRACK RECORD
Very Poor, Dealy Possession
NET WORTH
STRENGTH
COMMITMENT
Not satisfactory
RISK
delay possession, long wait, average quality construction
DEBT
Yes
LITIGATION 
Facing corruption and unfair trade practice charges in Indian courts
OFFICE ADDRESS

Ajnara India Ltd.
D-247/26, Sector-63, Noida,
Uttar Pradesh – 201301, India

Phone: 0120-416-6777
Fax: +91 120 4193953

BUILDER CATEGORY
Price | Lease Price
Orbit Plaza retail shops are available in sale & resale price at approx:-
| | | |
| --- | --- | --- |
| FLOOR | PRICE (PSF) | LEASE PRICE (PSF) |
| Ground Floor | 12,000-25,000 | 80-140 |
| Office Space | 7000-10000 | |
The price is very high for investment, monthly maintenance cost is also very high.
Conclusion
The investment of Orbit Plaza may not very fruitful.
NOTE: BEFORE INVESTING DO YOUR OWN RESEARCH