CPR Ratings


As per Location
Aero Arcade is situated on the Aerocity Road Mohali Chandigarh Punjab.  It's a 3-side open corner property. The project has a wide frontage & very impressive layout design.
The beauty of this project is that this project is exactly facing towards the Aerocity main road and other side facing towards the independent residences. The project has direct access from 3-ways.
Chandigarh Airport is just 7-minutes drive from Aero Arcade. Aero Arcade is just 16-minutes drive from ISBT (Interstate Bus Terminal). SAS Nagar railway station is just 12-minutes drive from Saraf MCC. The project is very well connected to the main points of Mohali & Chandigarh city.
Prominent institutions & schools are in the closest proximity such as Indian School of Business,IIISER (Indian Institute of Science Education & Research), Manav Rachna International School, Mai Bhago Armed Forces Preparatory Institute, NFCI Hotel Management and cooking Institute, Army Institute of Law, RMS School, Ryan International School, Chandigarh Institute of Hotel Management & Catering Technology, etc.
The project is close to several government offices such as Kissan Vikas Chamber, Central Warehousing Corporation, NSSO FOD GOVT OF INDIA, Real Estate Regulatory Authority (RERA) Punjab, Punjab Mandi Board, PUDA Bhawan, Punjab Forest Department, District Treasury Office, Department of Health & Family Welfare, PWD Office, District Administrative Complex, etc.
Aero Arcade is the top-most visible project of  Aerocity Road Mohali. The project is 100% visible and walkable for nearby residential sectors of Aerocity. The project is very well connected to multiple public transportation facilities and other civic facilities.
Aero Arcade caters to an immediate catchment of a big crowd of Aerocity Airport road traffic and nearby residents of GMADA Aerocity. It's a truly high street retail open market to cater to all kind of shopping, fine dining, fun, entertainment, and business needs of nearby localities. So can say that the Aero Arcade is an excellent location property.
Possession | Construction Update
The Aero Arcade Centre project is under construction. According to several real estate portals and builder, the promised date of delivery/possession of the project is in the year of  June-2019. But at the present situation project is very far from possession. According to RERA possession date is July-2021. RERA Registration No PBRERA-SAS81-PC0071.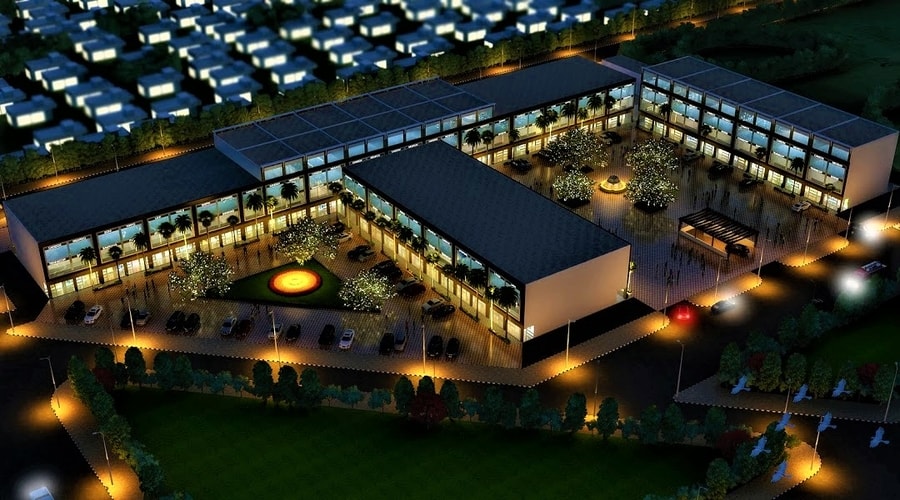 Advantages | Good Factors
The Aerocity Mohali is the fastest developing locality of GMADA. There are more than 20-thousand residents stayed near the Mohali Citi Centre and can denser more in upcoming years. And which is a very good sign of commercial property investment.
The layout design, elevation of Aero Arcade is very impressive. The project has a very wide frontage. All retail shops & SCO are perfectly designed for maximum visibility.
Aero Arcade has multiple entries and exit points. Multiple exits and entries point attract customers footfall quickly and provide maximum visibility/exposures to every retail area of the project. Which is also another approachable sign for investment in this project.
The retail spaces are well furnished and designed to cater to every retail business. The project has a proper parking space for stakeholders and visiting guests.
The Aero Arcade is very well connected to the multiple public transportation facilities and other civic facilities. Which is also a very good sign for commercial property investment.
Aero Arcade can be a famous Hot-Spot of Aerocity Road Mohali after completion possession.
Products & Developer
Aero Arcade is under developing by the Quantum Homes. The project consists of Premium Showrooms &  Retail Shops, Double Storey Showrooms with Basement, Four Storey Showrooms With Basement, etc.
Builder Profile
Quantum Homes is a new name in Chandigarh real estate industry. He has no experience to manage and develop such type of commercial projects.
Price | Lease Price 
At present, Aero Arcade commercial retail shops, plots, showrooms, SCO price starts at approx:-
PRICE LIST -SHOWROOM PLOTS
| | | | | |
| --- | --- | --- | --- | --- |
|   |   |   |   |   |
| BLOCK | PLOT SIZE | CATEGORY | FLOORS ALLOWED | PRICE |
| Both/BayShop | 11.50X30 | | B+G (FAR-1) | 70/- Lakh |
| D.S.S | 13,50X30 | | B+G+I (FAR-2) | 90/- Lakh |
| A | 16X70 | 2-Side Open | B+G+I+II (FAR-3) | 2.95/- Cr |
| A | 16X70 | 2-Side Open | B+G+I+II+III (FAR-4) | 3.25/-Cr |
| B | | | | |
| C | 16X80 | 2-Side Open | B+G+I+II (FAR-3) | 3.50/- Cr |
| | | | | |
PRICE LIST-SHOWROOM FLOORS BUILTUP
| | | |
| --- | --- | --- |
|   |   |   |
| FLOOR | SIZE (Sq Ft) | PRICE |
| 3rd Floor | 840 | 70/- Lakh |
| 2nd Floor | 840 | 90/- Lakh |
| 1st Floor | 840 | 1.10/- Cr |
| Basment+Ground | 1120+840=1960 | 2/- Cr |
| | | |

Conclusion
AERO ARCADE  property is best suited if you are willing to hold your investment until completion/possession of the project.   After completion possession of Aero Arcade, investors and retail business startups may get a minimum of 6% per annum returns if the builder complete the project in the committed time frame.
Aero Arcade is good for well established retail brands and also for retail business startups.
NOTE: BEFORE INVESTING DO YOUR OWN RESEARCH