CPR Ratings


As per Location
Nimai Place is situated in the sector 114 Gurugram. Nimai Place has a very small frontage. This property is not properly visible. At present, there is no residential population near this project. So can say that the location of this project is not very impressive.
Possession | Construction Update
The Nimai Place project is under construction. The project was launched in the year of 2012-2013. The promised date of delivery/possession was in the year of December-2016. Possession date has been revised several times but there is no significant progress. Project is still under construction. The project can be delayed for a couple of more years. The RERA Possession date is September-2019. (RERA Registration No . 07 OF 2018)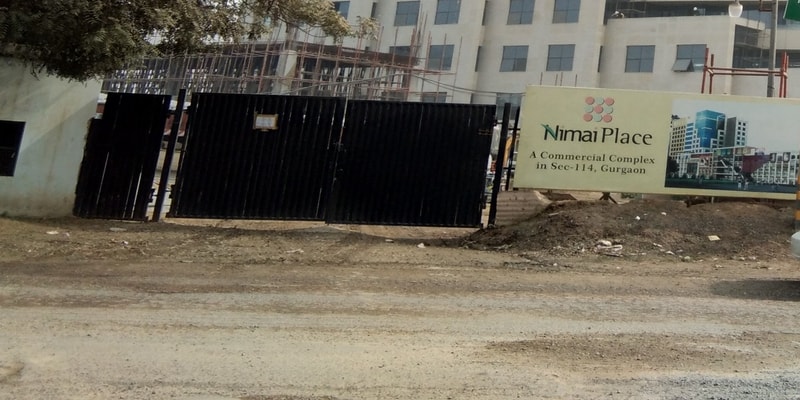 Drawbacks | Bad Factors
At present, there is no residential population near Nimai Place and without residential population, there is no mean of commercial property investment.  
Sector 114 has several good locations under construction Mall type commercial projects exist, such as  VSR 114 Avenue, and almost ready to move Chintels Corporate Park, etc. And several upcoming commercial projects are in the pipeline in the sector 114 Gurgaon, like Raheja, Spaze, and Chintels, etc.  Eminence Kimberly Suites commercial project is also very close to Nimai Place and which can be ready to services within 6-7 month time. 
So all these Mall type properties are creating investment competition. There is a big gap in demand and supply. The supply is very high in comparison to the demand.  So in future investors can face problems in leasing and selling their commercial shops, office spaces and studio apartments/serviced apartments in all above said commercial projects. 
VSR 114 Avenue is a much better location and layout design project than Nimai Place.
The entire New Gurgaon (Dwarka Expressway Sectors) is unplanned. Somewhere villages and somewhere unauthorized colonies and next to it is the group housing projects or commercial projects. It seems very crappy. The Dwarka Expressway sectors are full of encroachment. The development will take more than 7-10 years or every more.
The construction and possession of the high-rise residential apartment near the Nimai Place are dead slow, can say that there is no construction activity in the nearby residential sectors. And there is no mean of this commercial development without residential population in this area.
As we analyze that there are almost no construction activities or very slow construction in the entire Dwarka Expressway sectors (New Gurgaon). The development planning's of the state government has also been moving at a snail's pace.
The Dwarka Expressway (New Gurgaon) township has been under construction/development since the last 08 years, nobody knows when it will be complete.
The Maximum Mall or Mall type properties are not the good and safe investment options in the Gurugram and Delhi area. The maximum investors who invested in Mall type properties are in 99% loss.
Actually, only a few Malls is running fine in Gurugram and Delhi area such s Ambience Mall, DLF Mega Mall, MGF Metropolitan Mall, and The Select City Walk, Saket, New Delhi, etc otherwise all other Mall type properties are the investment of 99% loss.
At present, there are no public transport facilities available to Nimai Place. The construction and possession of this project depend on the sale of shops/space so the project may be the delay.
Products & Developer
Nimai Place is under developing by the Nimai Developers. This project Consist of centralizes air-conditioned commercial retail shops commercial office spaces, studio apartments, and food courts. It's a centralized air condition Mall type property.
Builder Profile
Nimai Developers has a good market reputation in the real estate industry. He has successfully handover several residential and commercial project in Gurgaon and Bhiwadi area. But the Nimai Developers has the extremely poor record of completing their real estate projects in the set time frame.
Key Point
Suppose the developer of the Nimai Place Mall completes the project in the revised set time frame or on the before set time frame, even then investors will not get benefits from this project. Because there is no residential population, no public transport facilities and other civic facilities.
It is probably not the right choice for investment for those who are looking for ROI in the next year or so. Given the doubts surrounding the possession date, there may not be a real appreciation of value for resale in a year. In fact, investors who are trying to make a sale of their property in Nimai Place are now struggling to reach their initial investment. Despite having brought their prices down, there aren't any takers to buy these properties.
Price | Lease Price
Nimai Place retail commercial shops, office space, studio apartments price start at approx:-
| | | |
| --- | --- | --- |
| UNIT TYPE | FLOOR | PRICE (PSF) |
| Retail Shops | Ground Floor | 13,000-14,000 |
| Retail Shops | First Floor | 7,000-8,000 |
| Retail Shops | Second Floor | 6,000-7,000 |
| Studio Apartments | | 50/- to 70/- Lakh |
| | | |
The price is slightly high for investment.
Conclusion
After analyzing all the above facts that the investments in the Nimai Place will take a very long time to grow. So invest carefully.
NOTE: BEFORE INVESTING, DO YOUR OWN RESEARCH