CPR Ratings


As per Location
The M3M PRIVE73  is situated on the  Southern Peripheral Road Sector 73, Gurgaon. The project is properly visible and walkable to sector 73 residents. The project has a very impressive layout design.
M3M Prive73 is very well connected to multiple public transportation facilities and other civic facilities. The project is easily accessible for the passers of  Southern Peripheral Road.
The M3M Prive73 is just a 5-minute distance from NH-8 and very well connected with the main points of sector 73,74 74A & sector 75 of Gurgaon. Major multinational companies are in close proximity such as BMW Training House etc. DLF Corporate Greens and Suraj Public school is also in the closest proximity. The project is on the proposed metro rail track.
The M3M Prive73 caters to an immediate catchment of a big crowd of the sector 73 and sector 75. It's a truly high street retail open market to cater to all kinds of shopping, fine dining, fun, and entertainment, needs of nearby residents. Overall, M3M PRIVE73 is an approachable location project.
Possession | Construction Update
The M3M Pprive is under construction. According to several real estate portals and builders, the promised date of delivery/possession of the project is in the year of  Mayr-2021. RERA  Registration No. RC /REP/HARERA/GGM/333/ 65 /2019 /27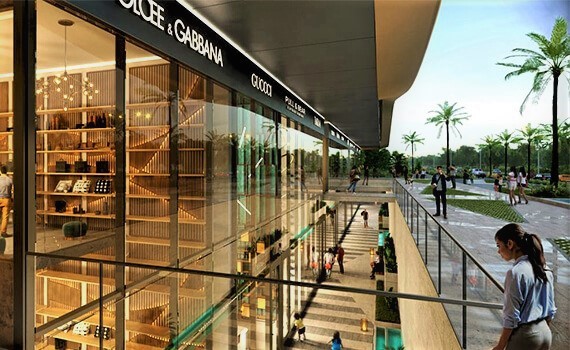 Advantages | Good Factors
M3M Prive73 retail spaces are perfectly designed for maximum visibility. Maximum retail shops of all floors are properly visible. The project is very well suited for brand retail chains, food chains, and retail business startups. The retail business startups and investors may get a minimum of 6% per annum return from their investments.
M3M Prive 73 has multiple entries and exit points. Multiple entries and exits point to attract customers' footfall quickly and provide maximum visibility/exposures to every retail area of the project. Which is a very good sign to attract customers' footfall quickly.
Sector 73 is a high density, urban rich residential area of Southern Peripheral Road there are more than 20-thousand flats and an urban rich residential population of approx 50-thousand peoples.

PRIVE73 is all surrounding with several high-density ready to move and under construction residential group housing societies such as DLF Alameda, Homestead Ballet, Today Canary Greens, M3M Luxury Apartments, Today Royal Elegancia, Realtech The Luxurium, Homestead Maria Sharapova Tower.  Tatvam Villas, Nirvana Country, Central Park 2, Park View City 1, Greenville, Piramanti, Vipul Greens etc. And that is a very good sign for commercial property investment.
M3M Prive73 layout design is inspired by the famous luxury shopping hotspot Burlington Arcade London.  The project has a proper parking space for stakeholders and visiting guests.
The M3M PRIVE73 is very well connected to the multiple public transportation facilities and other civic facilities. The project is easily accessible to sector 73 residents.
Commercial Real Estate Project Investment Criteria Table
MUST REQUIRED FACTORS
ACTUAL FACTS-M3M PRIVE-73

GRADING

Urban Rich Gentry

High Class, Upper Middle Class. Radiational Societies within Walking distance- Vigneshwara, DLF, Today, M3M, Realtech, Homestead, Tatvam, Nirvana, Central Park, Vipul, etc
A1

Prime Location

GOLD
A
Connectivity
5-Minute drive from- sector 73, 74, sector 75 of Gurgaon
32-Minute drive from- DLF Cyber City.
Nearest Metro Station 26-Minutes (Huda City Center)
International Airport-23-Km (IGI Airport
A

Layout Design

Excellent, Grand ceiling heights, full of vigor and vitality, wide corridors, proper sitting & walking arrangements, highly visible retail
A1

Multiple Entries

Yes
A
Visibility
Highly visible, corner property, very wide frontage
A
High-Density population
Within a radius of 500-meter more than 20-Thousand Flats and 50-Thousand urban rich people and can denser more in upcoming years.
A1
Youthful Footfall

Yes

A
Public Security
Police Station -15-Minute
Fire Station 15-Minute
A
Industrial Area
Walking distance
A
Urban/Civic Facilities
Maximum facilities available
A
Developers Credibility

Quality Construction & Maintenace, GOLD standard Developer

A
Price Comparison
Competitive price
A
Competitors

No Competitors 

A1

Expected ROI

5% to 7% Annually
A
Investment Tips 
 Before investing in commercial real estate, it is better to decide why you are investing. 
Actually, there are two types of investors, the first one who buys retail shops or office space for self-use and the second one who bought it for pure rental income and sell when getting some appreciation. 

So if you are buying it for your self-use, you can buy any size according to your uses, but if you are buying it for pure rental or appreciation income, then go for virtual space or buy at least minimum 1000 sq ft carpet area, because if you buy a small shop or office space for rental income you hardly get any brand to lesae out your space. 

The brands or multinational companies want the bigger space for their operations. And there are several must require things such as dedicated bigger parking spaces, negotiations in CAM charges, specific signage, dedicated power backup, bigger space in a single floor plate, and several must require NOCs, which are very difficult to arrange by a small or individual investor. 

So that, before investing in any commercial project, talk to the developer, that you won't buy it for self-use, but for pure rental income, and handover/responsible it for the developer to lease out.

Otherwise, you won't get your expected appreciation or may get delayed appreciation or loss.
Key Point | Advice
These days developers of the PRIVE-73, offering some attractive schemes to customers to invest in this project, like the 12% assured return, lease guaranty, and other greedy payment plans.
Basically, the assured return & lease guaranty is nothing, the real estate developers sell their low money property at a very higher price and return your hard-earned money in the name of the assured return to you in the form of EMI. Actually, they are making you fool.
ALSO READ: How to Double Your Money by Investing in Commercial Real Estate
It is better to slash the price and go for without an assured return payment plan. Actually, the Assured Return plan is a trick of fundraising.
The development and the construction of the M3M PRIVE73 project will depend solely on the speed at which the retail shops, office spaces, and serviced apartments are sold out.
Products & Developer
The M3M Prive73 commercial project is under developing by the M3M group. The project consists of commercial retail shops, Anchor Store, food courts, 10-Multiplex, and entertainment facilities, etc.
Builder Profile | Track Record
 
PREDECESSOR
M3M India Limited, M3M India Private Limited
FOUNDED
2007
FOUNDERS
Roop Kumar Bansal, Basant Bansal
KEY PEOPLE
Pankaj Bansal
COMPANY | PROMOTERS
M3M
PRODUCTS
Apartments, Commercial Offices, Shopping Malls, Hotels, Retail, Lesure & Hospitality
AREA SERVED
Delhi, Gurgaon
PROJECTS COMPLETED
M3M Urbana, M3M Tee Point, M3M Cosmopolitan
PROJECTS ONGOING
M3M IFC, M3M Broadway, M3M Urbana Premium, M3M 65th Avenue, M3M Prive 73, M3M Corner Walk, M3M My Den, M3M Sky Lofts
DELIVERY TRACK RECORD
Poor, delay possession
NET WORTH
STRENGTH
COMMITMENT
Quality Construction, state of the art project, finest layout design
RISK
delay possession
DEBT

Updating soon

LITIGATION 
Unfair Trade Practice Charges, RERA Complaints
OFFICE ADDRESS

6th Floor, 'M3M Tee Point', Sector 65,

Gurugram Manesar Urban Complex,

Gurugram (Gurgaon) 122101,

Haryana, India.

Tel: +91 124 4732000 Toll Free: 1800 123 3333 Fax: +91 124 4732010

BUILDER CATEGORY

GOLD
The M3M builder has a good market reputation in the real estate industry. He has successfully delivered several A-class residential and commercial projects in India.
Price | Lease Price | Price List
At present, M3M PRIVE73 retail commercial shops price starts at approx:-
| | | |
| --- | --- | --- |
|   |   |   |
| FLOOR | SIZE (Sq Ft) | PRICE (PSF) |
| Lower Ground | 450-2000 | 16,400 |
| Ground Floor | 1400-2500 | 22,900 |
| Upper Ground Floor | 535-2000 | 16,400 |
| First Floor | 623-2000 | 13,400 |
| Second Floor | 400-2000 | 13,400 |
| | | |
The price is a little bit high for a primary stage under-construction projects. According to our estimations, the price for the ground floor should not be more than INR 15,000 per sq ft. and for other floors, the price should be in between INR 10,000-12,000 per sq ft.
Conclusion
The M3M Prive-73 is good for well established retail business groups and also for new business startups. After completion, possession of the Prive-73 sector-73 Southern Peripheral Road, Gurugram, investors may get a minimum of 6% per annum return. If the builder completes this project in the promised time frame.
Overall, M3M Prive Seventy-Three is a good project for investment if you don't trap in the assured return deals & lease guaranty payment plans. Without assured return, the CLP payment plan is better for investment.
CPR Ratings
[Total: 7 Average: 3.4]
NOTE: BEFORE INVESTING DO YOUR OWN RESEARCH