CPR Ratings


As per Location
The Spaze Tristaar is situated on the sector road of sector 92, Gurgaon. The project has a wide frontage & very impressive layout design.
The Spaze Tristaar is adjoined to the ready to move 70-acre residential townships, Sare Homes. The project has direct access from the Dwarka Expressway, NH-8 and Pataudi Road.
The project is properly visible and walkable to Sare Homes residents and other surrounding residential group housings of sector-92.
At present, sector-92 is an under developing location but approx within 3-years, after completion possession of several residential group-housing projects it may be a high-density population area. So can say that the Spaze Tristaar Mall is an excellent location project.
Possession | Construction Update
The Spaze Tristaar project was launched in the year of- 2013. The promised date of delivery/possession of the project was set for the year of 2016. But the project is still under construction. After RERA come in force, the revised possession date is June-2020.  RERA Registration No 247 of 2017.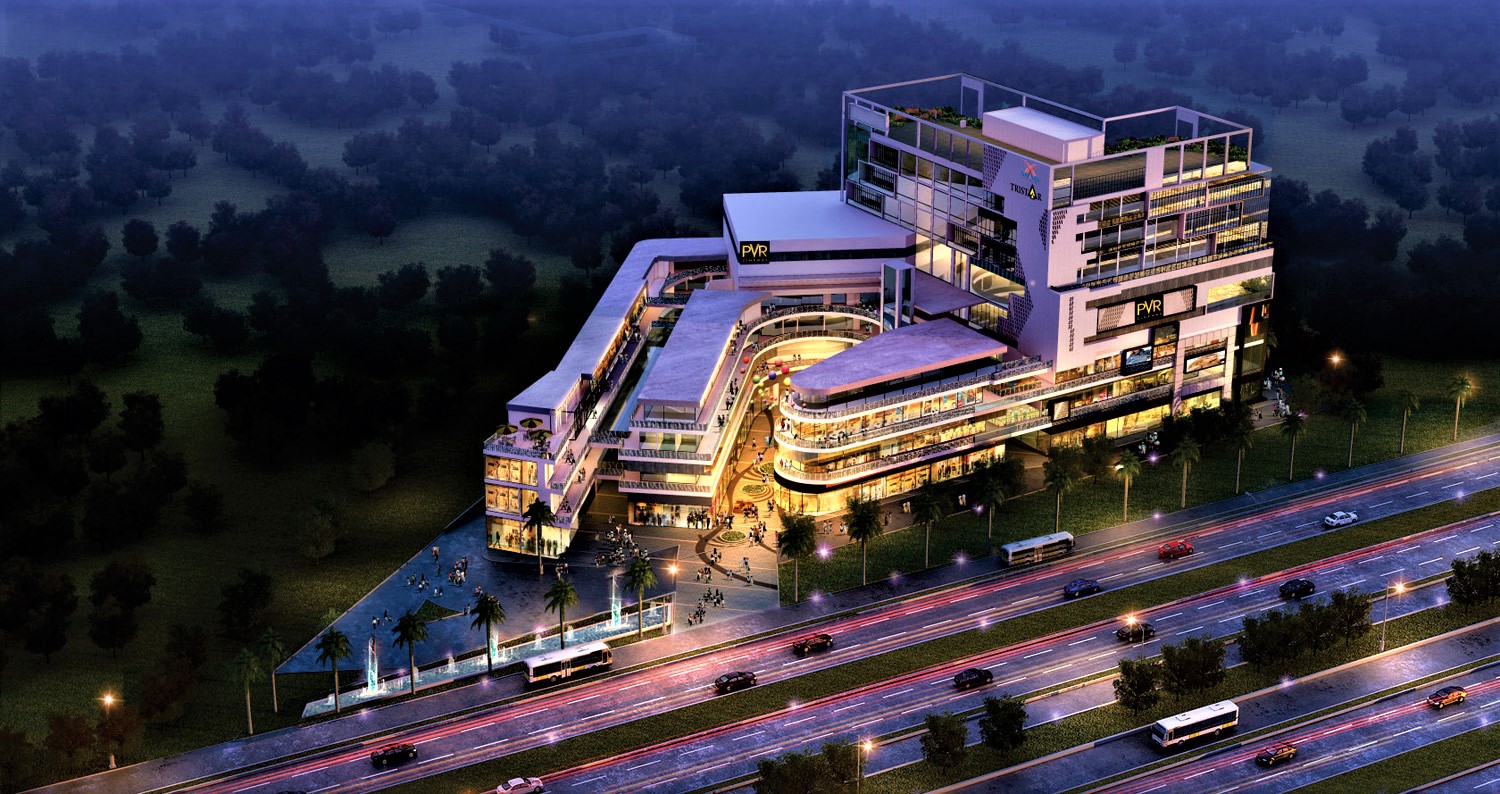 Advantages | Good Factors
Spaze Tristaar is all surrounding with several ready to move and under construction residential group housing  societies  such as Sare Crescent Parc, Raheja Navodaya, Ansal Heights, Sare Crescent Parc Royal Greens Phase 1, Bestech Park View Sanskruti, Sare Green Parc 2, Sare The Grand, Parkwood Westend, Sare Petioles, Sare Club Terraces etc. And that is a very good sign for commercial property investment.
The Sector 92, Gurgaon can be a high-density population area in future. There is a huge urban rich residential population surrounding Spaze Tristaar Mall. There are more than 20-thousand flats and an expected residential population of more than 50-thousand people can reside in this area within two years. Which is also a very good sign for commercial property investment in i.e. Spaze Tristaar.
The commercial project which will give possession first in this location of sector 92 Gurgaon can give better returns in compression of other commercial projects of this location. And the Spaze Tristaar construction is on the advance stage in compression to other commercial projects of this area. Our Investments better growth depends on the possession first. Because of at present there are no ready to move Mega commercial project/ property available in this location of sector 92. So we advice choose the advance stage construction commercial project for investment in sector 92 Gurgaon.
Key Point
The Spaze Tristaar property is best suited if you are willing to hold your investment until completion/possession of the project.  The Spaze Tristarr investment can get good returns. And this is subjected to the completion of this project on or before set time frame or on before other commercial projects of sector 92 New Gurgaon or in the revised set time frame.
Advice
If construction/possession of the Spaze Tristaar shall be completed before the other commercial project of sector 92 and surrounding areas then this commercial projects will give excellent returns to investors. Because at present there is no ready to move mega Mall type project in sector 92 Gurgaon to cater to shopping and entertainment needs for the residents of sector 92. And the Spaze Tristaar fulfills this required criterion. 
Drawbacks | Bad Factors
The Maximum Mall or Mall type properties are not the good and safe investment options in the Gurugram and Delhi area. The maximum investors who invested in Mall type properties are in 99% loss.
Actually, only a few Malls is running fine in Gurugram and Delhi area like The Ambience Mall, The DLF Mega Mall, The MGF Metropolitan Mall, and The Select City Walk, Saket, New Delhi etc otherwise all other Mall type properties are the investment of 99% loss.
At present, the public transport facilities to Spaze Tristaar Mall are limited.
The construction and possession of this project depend on the sale of shops/space so the project may be the delay.
Products & Developer
The Spaze Tristaar commercial project is under developing by the Spaze Builders. This project Consist of commercial retail shops, Anchor Store, food courts, office space, Multiplex, and entertainment facilities, etc. It's a Mall type property.
Builder Profile
The Spaze builder Group has a good market reputation in the real estate industry. He has successfully handover several commercial projects in the Gurugram (Gurgaon). So the investor can invest in this project without any hassle. (Spaze Tristar)
Price | Lease Price
Spaze Tristaar retail shops & office space price starts at approx:-
| | | |
| --- | --- | --- |
| FLOOR | SIZE (Sq Ft) | PRICE (PSF) |
| Ground Floor | 450-1200 | 12,000-15,000 |
| First Floor | 250-600 | 9000 |
| Second Floor | 225-400 | 7000 |
| | | |
The price is reasonable for investment.
Conclusion
The Spaze Tristaar is good for retail business startups.
If construction/possession of the Spaze Tristaar  shall be completed before the other commercial projects of this area than this commercial project will give excellent returns. After completion possession, the investors may get a minimum of 5 to 6% per annum returns.
NOTE: BEFORE INVESTING DO YOUR OWN RESEARCH