CPR Ratings


As per Location
The Ameya Sapphire 92 is situated on the service road of sector 92, Gurgaon. The project has a small frontage. Sector 92 is an under developing sector. The elevation and layout design is good. It's a good location project.
Possession | Construction Update
The Ameya Sapphire 92 project was launched in the year of 2014-2015. The promised date of delivery/possession of the project was set for the month of December 2017. But the project is still under construction. And the revised possession date of this project is December 2018. The Ameya Sapphire 92 may be delayed for more couple of years.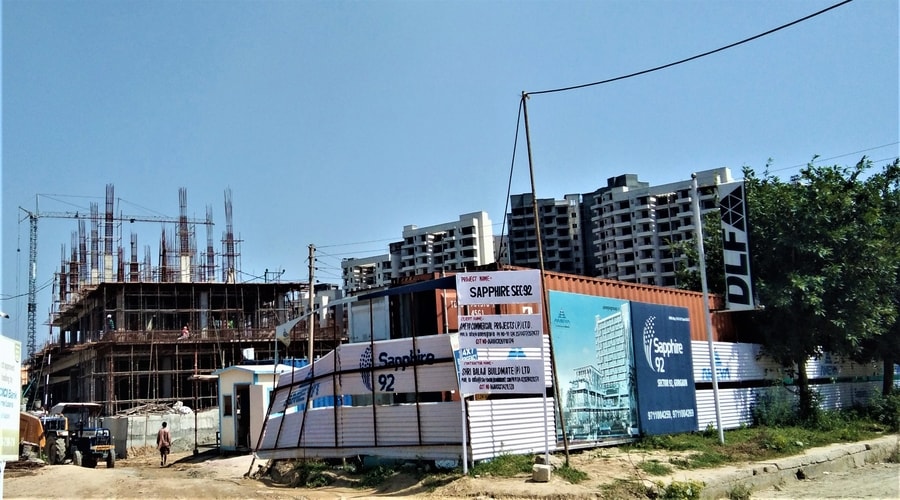 Advantages | Good Factors
At present, sector 92 is an under developing location of Gurgaon. But it can be a high-density population area in upcoming years.  There are several big residential ready to move and under construction projects such as Sare Crescent Parc, Raheja Navodaya, Ansal Heights, Sare Crescent Parc Royal Greens Phase 1, Bestech Park View Sanskruti, Sare Green Parc 2, Sare The Grand, Parkwood Westend, Sare Petioles, Sare Club Terraces etc are in close vicinity of Ameya Sapphire 92 which is a very good sign of investment in this project.
There is huge urban rich residential population surrounding Ameya Sapphire 92 Mall. There are more than 10 thousand flats and an expected residential population of more than 40 thousand people can reside in this area within two years. Which is also a very good sign for commercial property investment in i.e. Ameya Sapphire 92.
The commercial project which will give possession first in this location of sector 92 Gurgaon can give better returns in compression of other commercial projects of this location. And the Ameya Sapphire 92 construction is on advance stage in compression to other commercial projects of this area. Our Investments better growth depends on the possession first. Because of at present there are no any ready to move Mega commercial project/ property available in this location of sector 92. So we advice choose the advance stage construction commercial project for investment in sector 92 Gurgaon.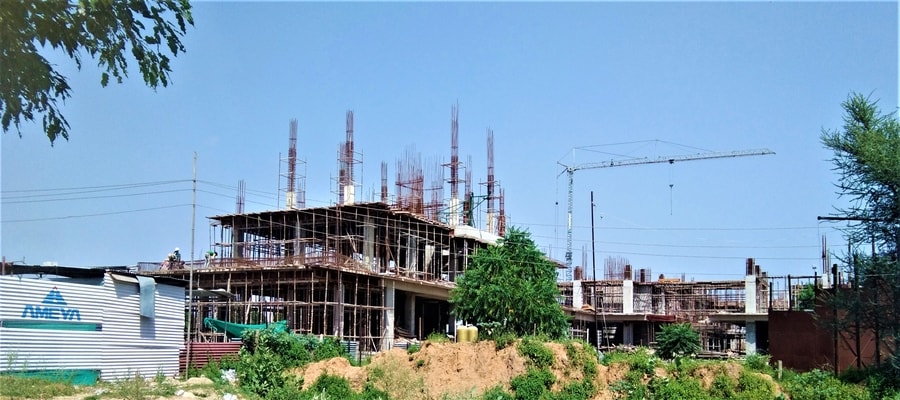 Advice
If construction/possession of the Ameya Sapphire 92 shall be completed before the other commercial project of sector 92 and surrounding areas then this commercial projects will give excellent returns to investors. Because at present there is no ready to move mega Mall type project in sector 92 Gurgaon to cater for shopping and entertainment needs for the residents of sector 92. And the Ameya Sapphire 92 fulfills this required criterion.
Key Point
Ameya Sapphire 92 property is best suited if you are willing to hold onto a longer-term for returns as it would take a couple of more years (or even more) and the market to appreciate in the locality. And this is subjected to the completion of this project on the set time.
It is probably not the right choice of investment for those who are looking for ROI in the next year or so. There may not be a real appreciation of value for resale in the next couple of years. In fact, investors who are trying to make a re-sale of their property in the Ameya Sapphire 92, hardly get any client.
These days developer of the Ameya Sapphire 92 project offering buyers so many interesting payments plans to invest in this project/property, commercial retail shops, and office spaces such as 12% assured return and lease guaranty payment plans, etc.
Those builder/project who offer this kind of investment offers is not in the category of secure investment. As our experience most assured return properties are an investment of loss.
Do not put your hard-earned money in the builder's seduction, assured return & lease guaranty properties are always an investment of risk. So invest wisely.
Basically, the assured return & lease guaranty is nothing, the real estate developers sell their low money property at a very higher price and return your hard-earned money in the name of the assured return or monthly rent to you in the form of EMI. Actually, they are making you fool. 
Product & Developer
The Ameya Sapphire 92 is under developing by the Ameya Commercial Projects Private Limited. This project consists of commercial retail shops, Anchor Store, food courts, 6-Screen Multiplex, entertainment facilities, and serviced apartments, etc. It's a Mall type property.
Builders Profile | Track Record
 
PREDECESSOR
Ameya Infratech Private Limited, Ameya Buildwell Private Limited, Ameya Commercial Projects Private Limited
FOUNDED
2008
FOUNDERS
Deepak Gupta, Sanjay Gupta
KEY PEOPLES
Deepak Gupta, Sanjay Gupta
COMPANY /PROMOTER
Ameya
PRODUCTS
Shopping Malls, Commercial Offices, Hotels, Lesure & Hospitality, Retail
AREA SERVED
Gurugram
PROJECTS COMPLETED
The Sapphire in Sector 49, Ameya One in Sector 42, Ameya Sapphire-83, Gurugram
PROJECTS ONGOING

Ameya Sapphire-90

,

Ameya Sapphire-92

, Ameya Sapphire-93, Gurugram
DELIVERY TRACK RECORD
very poor, delay possession, long wait
NET WORTH
STRENGTH
COMMITMENT
Quality construction & Maintenance, State of the art projects, Finest layout design
RISK
Updating soon…
DEBT
Updating soon…
LITIGATION 
Updating soon…
OFFICE ADDRESS
Ameya One, DLF – V, Golf Course Road, Gurgaon – 122002,
Haryana, India, Phone: +91-124-4571477/ 2572477

BUILDER CATEGORY

GOLD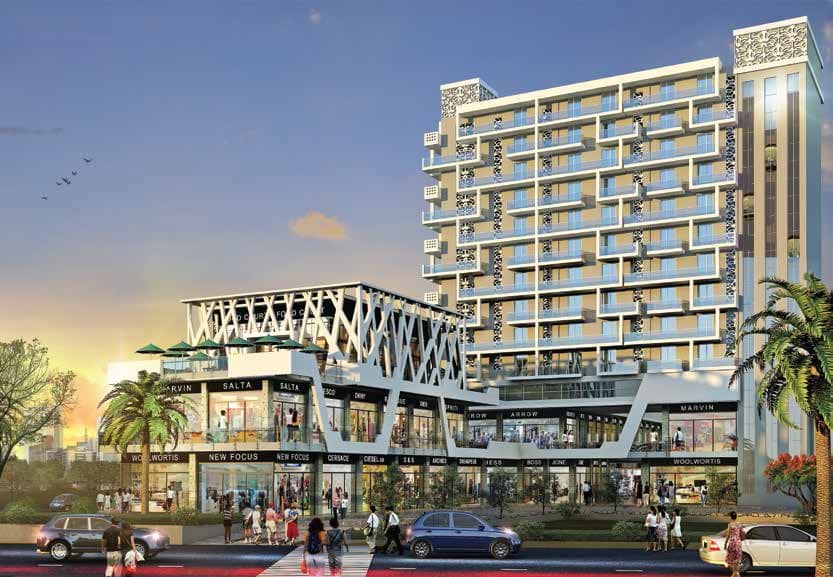 Drawbacks | Bad Factors
The Maximum Mall or Mall type properties are not the good and safe investment options in the Gurugram and Delhi area. The maximum investors who invested in Mall type properties are in 99% loss.
Actually, only a few Malls is running fine in Gurugram and Delhi area such as Ambience Mall, DLF Mega Mall,  MGF Metropolitan Mall, and Select City Walk, Saket, New Delhi, etc otherwise all other Mall type properties are the investment of 99% loss.
At present, the public transport facilities to Ameya Sapphire 92 Mall are limited. The construction and possession of this project depend on the sale of shops/space so the project may be the delay.
Price | Lease Price
Ameya Sapphire 92 retail commercial shops & Serviced Apartments sale price stat at approx:-
| | |
| --- | --- |
| UNIT TYPE | PRICE (PSF) |
| Serviced Apartments | 6500-7000 |
| Retail Shops | 8000-12,000 |
| | |
The price depends on the floor and location and demand.  The price is reasonable for investment.
Conclusion
If construction/possession of Ameya Sapphire-92 shall be completed before the other commercial projects of this area than this commercial project will give excellent returns. After completion possession, the investors can get 5% to 6% per annum returns.
NOTE: BEFORE INVESTING DO YOUR OWN RESEARCH