CPR Ratings


As per Location
The KW Delhi-6,(KW Delhi six) project is situated on the bypass road of Raj Nagar Extension.
The KW Delhi-6 is, truly situated at the end connecting point of Raj Nagar Extension bypass road to the Meerut Road (NH-58) crossing.  So KW Delhi-6 is on the way of people which are coming from the Meerut and the Ghaziabad City area. And which are used to bypass the Ghaziabad city traffic via Raj Nagar Extension road.
Mostly peoples reside in the Raj Nagar Extension goes for their business/jobs to Delhi, Noida and the Gurgaon, etc and the KW Delhi-6 is not on the way of these people. And in this considerateness, the location of KW Delhi-6 is not very impressive.
Possession | Construction Update
The project KW Delhi-6 is under construction. Construction is in full swing. The promised date of delivery/possession of the project is in the month of December 2019.

Drawbacks | Bad Factors
KW Delhi-6 has a very small frontage. The project is not properly visible and walkable. The project has a single entry and exit point.  If any customer wants to enter in the market he must be entered by a fixed entry.  The elevation and layout design are also not very impressive.
It has no doubt that Raj Nagar Extension is a high-density population area, but KW-Delhi-6 is an outskirt location of Raj Nagar Extension. So this commercial project does not get much benefits from the high-density population of Raj Nagar Extension.
The turning red light of the Meerut Road (NH-58) Highway to the KW Delhi-6 is very busy, the customer who is coming from the Raj Nagar Extension area for shopping in this project must take U-turn from this red light and this U-turn is equal to winning a battle.
As we analyze that the KW Delhi-6, commercial spaces have a loading of more than 50%, it means a small shop of around 600 sq ft, may end only 295 sq ft carpet area.
These days developer of the KW Delhi-6 project offering buyers so many interesting payments plans to invest in this project/property, commercial retail shops, and food courts, such as 12% assured return, lease guaranty, and other greedy payment plans, etc.
Do not put your hard-earned money in the builder's seduction, assured return & lease guaranty properties are always an investment of risk. So invest carefully.
Basically, the lease guaranty is nothing, the real estate developers sell their low money property at a very higher price to you and return your hard earned money in the name of the assured return & monthly rent to you in the form of EMI. Actually, they are making you fool.
The Maximum Mall or Mall type properties are not the good and safe investment options in the Ghaziabad, Noida and Greater Noida area. The maximum investors who invested in Mall type properties are in 99% loss.
Actually, only a few Malls is running fine in Ghaziabad, Noida and Greater Noida area such as Shipra Mall,  GIP Mall, DLF Mall of India, etc otherwise all other Mall type properties are the investment of 99% loss.
The construction and possession of this project depend on the sale of shops/space so the project may be the delay.
Commercial Real Estate Project Investment Criteria Table
MUST REQUIRED FACTORS
ACTUAL FACTS-KW DELHI-6

GRADING

Prime Location
Not very impressive
C

Urban Rich Gentry

Middle Class, Lower Middle Class. Only a few residential projects adjoined
C

Prime Location

BRONZE
D
Connectivity
5-Minute drive from- Meerut Road.
Nearest Metro Station 15-Minutes (Hindon)
Domestic Airport-14Km (Hindon Airport)
Ghaziabad Railway Station-10Km
B

Layout Design

Not very impressive
C

Multiple Entries

No
C
Visibility
Not very much visible, small frontage
C
High-Density population
Within 500-Meter radius more than 25-Thousand Flats and 1-Lakh urban rich people and can denser more in upcoming years.
A
Youthful Footfall

Meeruth Road Institutional Area

A
Public Security
Police Station -15-Minute
Fire Station 15-Minute
A
Industrial Area
Within 3-Km, Meerut road industrial area
B
Urban/Civic Facilities
Maximum facilities available
B
Developers Credibility

Average

B
Price Comparison
Higher price in comparison to other commercial projects/properties of the area
C
Competitors
Several competitors within a radius of 1-KM
B

Expected ROI

May takes a very long time
C
VIDEO: KW- Delhi-6

Products & Developer
The KW Delhi-6 is under developing by the KW Group. It's a purely commercial property. The KW Delhi 6, is consist of commercial retail shops, food courts, and entertainment facilities.
Builder Profile | Track Record
 
PREDECESSOR
KW Homes Private Limited
FOUNDED
2012
FOUNDER
Mrs. Savita Kesarwani
KEY PEOPLE
Pankaj Kumar Jain, Mrs. Savita Kesarwani
COMPANY | PROMOTERS
KW Group
PRODUCTS
Apartments, Retail
AREA SERVED
Delhi, Ghaziabad
PRODUCTS
Apartments, Shopping Malls, Retail
PROJECTS COMPLETED (Residential)
KW Srishti-Raj Nagar Extension
PROJECT COMPLETED (Commercial)
None
PROJECTS ONGOING (Commercial)
KW Delhi-6, KW Blue Perl
DELIVERY TRACK RECORD
Delay Possession
NET WORTH
STRENGTH
COMMITMENT
Quality Construction
RISK
No Experience in commercial projects development & maintenance
DEBT
Updating soon
LITIGATION 
Updating soon
OFFICE ADDRESS 
B-97, Sector 63, Noida, Uttar Pradesh 201301
Phone: +91-8010908888

BUILDER CATEGORY

BRONZE
Advice
For a small investor, it's better to go for small residential societies/sector markets of Raj Nagar Extension and visible/pickup road facing ground floor retail commercial shops.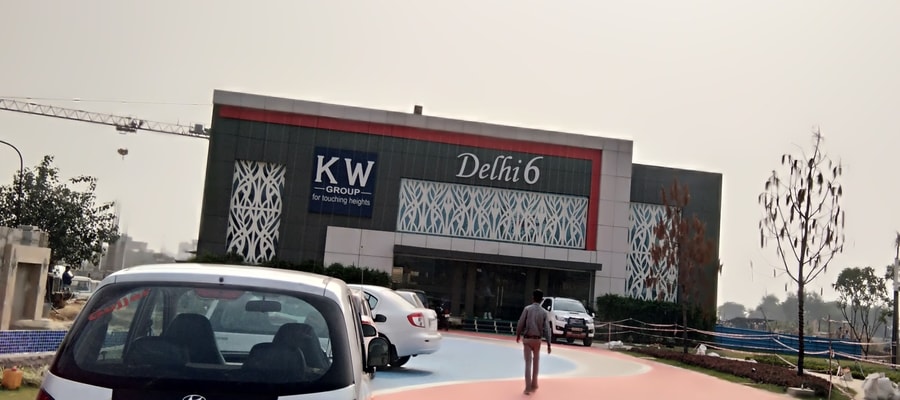 Advantages | Good Factors
The developer of KW Delhi -6 commercial projects has successfully delivered his residential project The KW Srishti in the Raj Nagar Extension.
This project the KW Delhi 6 is GDA (Ghaziabad Development Authority) approved project, so there is no legal hassle in this project.
Price | Lease Price
KW Delhi-6 retail shops price start from approx:-
| | |
| --- | --- |
| PRICE (PSF) | SIZE (SqFt) |
| 13,000-21,0000 | 300-2000 |
The price is slightly high for investment.
Also Read : Review : Investment in GNB Raj Nagar Extension, Ghaziabad, Loss or Profit
Also Read : Review : Investment in VVIP Style, Raj Nagar Extension, Ghaziabad, Loss or Profit
Conclusion
The investment of KW-Delhi-6 may take a very long time to grow. Our Advice, at present, the investment may be risky.
NOTE: BEFORE INVESTING, DO YOUR OWN RESEARCH