CPR Ratings


As per Location
The GBP Centrum (retail shops, office space & serviced apartments) is situated at Chandigarh Ambala Highway, Zirakpur (NH-22). It's a 2-side open corner property.
Chandigarh international airport is just a 15-minutes drive from GBP Centrum. The project is properly connected with the main points of Chandigarh & Zirakpur city. The GBP Centrum is very well connected to the residential sectors of Chandigarh.
Prominent institutions & schools are in the closest proximity such as Shemrock World, Manav Mangal Smart World Zirakpur, Government Senior Secondary School, etc.
The GBP Centrum is the central location of several high-density population areas of Chandigarh & Zirakpur. Overall the GBP Centrum is a good location project.
Possession | Construction Update
GBP Centrum is under construction. The promised date of delivery, according to several real estate portals is in the month of September-2019. But the RERA Possession date is December-2022. RERA Registration No PBRERA-SAS79-PC0021.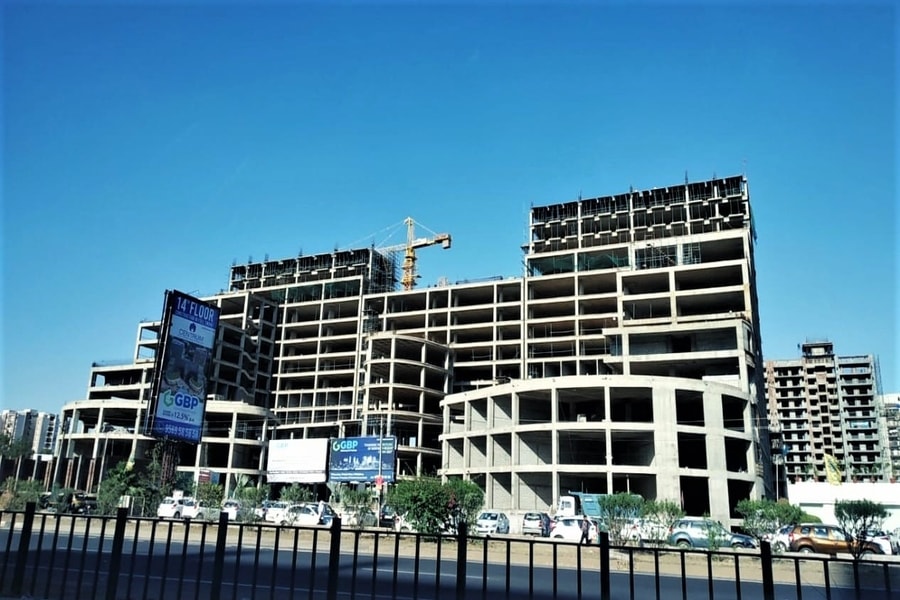 Drawbacks | Bad Factors
It is no doubt that the GBP Centrum is an approachable location project but the layout design of retail space is very congested. Apart from some ground-floor retail shops all the other floors retail shops are not very impressive layout.
Gazing at the primary structure of GBP Centrum does not feel magnificent. The main entrance is not very attractive. The project has not multiple entries and exit points which is also a drawback of this project.
Maximum Mall or Mall type properties are not the good and safe investment options in Chandigarh area. The maximum investors who invested in Mall type properties are in 99% loss.

Actually, the Malls which are up for sale get defective. Only those Malls are working fine which has at least 75% stake for lease otherwise all other Mall type properties are the investment of 99% loss.
These days developers of the GBP Centrum, offering some attractive schemes to customers to invest in this project, like the 12% assured return, lease guaranty, and other greedy payment plans.
That builder/project who offers this kind of investment offers is not in the category of secure investment, as our experience most assured return properties are the investment of loss.
Do not put your hard-earned money in the builder's seduction, assured return & lease guaranty properties are always an investment of risk. So invest wisely.
Basically, the assured return & lease guaranty is nothing, the real estate developers sell their low money property at a very higher price and return your hard-earned money in the name of the assured return to you in the form of EMI. Actually, they are making you fool.
Actually, assured return and pre-leased guaranty payment plans are the tricks of fundraising by fooling the public.
The GBP group (GBP Centrum) has very strong marketing in Chandigrah-Punjab area. If you are an investor and have money in your bank/pocket to buy commercial property, don't rely on marketing propaganda. However, things get change drastically when you go to the market to sell anything or even the same property you bought thinking there is a huge demand for it, the same broker tells you, sir, there is huge downfall and no buyer is in the market or tells you a rate you won't afford to sell and bear huge loss. Moral of the paragraph is that don't believe the builders marketing hype, do your own research or take help of an expert.
Commercial Real Estate Project Investment Criteria Table
MUST REQUIRED FACTORS
ACTUAL FACTS-GBP CENTRUM

GRADING

Urban Rich Gentry

Middle Class, Lower Middle Class. Within a radius of 1-Km, several high-rise residential group-housings such as Maya Garden City, Motiaz Royal Citi, Hollywood Heights 1, Savitry Greens, Green Lotus Avenue, Mona Aeroview Apartments, SUSHMA Chandigarh Grande, Shipra Capital City Zirakpur, etc.
A

Prime Location

GOLD
A
Connectivity
Properly connected with public transportation facilities.
Airport-15-Minute drive (Chandigarh Airport)
A

Layout Design

Not very impressive, congested layout
C

Multiple Entries

No
C
Visibility
Properly visible, Main road
A
High-Density population
Within 1-Km radius more than 25-Thousand Flats and 1-Lakh urban rich people and can denser more in upcoming years.
A
Youthful Footfall
YES
B
Public Security
Police Station -15-Minute
Fire Station 15-Minute
A
Industrial Area
Within 3-Km
A
Urban/Civic Facilities
Maximum facilities available
B
Developers Credibility

Delay Possession. SILVER standard Developer

B
Price Comparison
High Price
C
Competitors
Several competitors within a radius of 1-KM
C

Expected ROI

May takes very long time
C
Advice
Less than 500 sq ft lockable office space is good for self-use but not for regular rental income investment. It is very difficult for a small size office space investor to lease their office space to any reputed brand. Actually, big brands want the bigger space for their office setups. Brands want bigger space in a single plate and there are so many formalities of terms & conditions such as long lease time frame, lease price acceleration, negotiations in CAM charges, must require several NOC, dedicated bigger parking space, etc. And which is very difficult to arrange for a small or individual investor. So don't go for small size office space for investment.
The Studio or Serviced Apartments of GBP Centrum can be a good investment option if they are pre-leased to any reputed hospitality chain. It is better to check all the necessary legal documents such as the land use of studio apartments and in case of pre-leasing such as registered lease agreements etc. 
Advantages | Good Factors
GBP Centrum is right in the middle of the high-density population area of Chandigarh Ambala Zirakpur Highway. There are more than 15-thousand flats and an urban rich residential population of more than 30-thousand peoples. And which is a very good sign for investment in this commercial project.
There are several urban rich residential group housing societies that are also in the close proximity of GBP Centrum such as Maya Garden City, Motiaz Royal Citi, Hollywood Heights 1, Savitry Greens, Green Lotus Avenue, Mona Aeroview Apartments, SUSHMA Chandigarh Grande, Shipra Capital City Zirakpur, etc.
GBP Centrum is very well connected to multiple public transportation facilities and other civic facilities. The project has proper parking spaces for visiting guests and stakeholders.
Products & Developer
The GBP Centrum is under development by the GBP group (Gupta Builders and Promoters Private Limited). The project is consists of retail shops, office space, serviced apartments,  swimming pools, food courts & entertainment facilities.etc.
Builders Profile | Track Record
 
PREDECESSOR
Gupta Builders And Promoters Private Limited
FOUNDED
2011
FOUNDERS
Vinod Kumar Gupta
KEY PEOPLE
Satish Kumar, Raman Kumar, Pardeep Kumar
COMPANY | PROMOTER
GBP
PRODUCTS
Apartments, Retail, Commercial Offices
AREA SERVED
Chandigarh: Zirakpur, Mohali, Panchkula
PROJECT COMPLETED 
GBP Business Square
PROJECTS ONGOING
GBP Centrum
DELIVERY TRACK RECORD
Poor
NET WORTH
STRENGTH
COMMITMENT
???
RISK
Updating soon
DEBT
Yes
LITIGATION 
Updating soon
OFFICE ADDRESS
Gupta Builders & Promoters Pvt. Ltd.
SCO 196-197, Sector-34 A, Chandigarh, Pin – 160022
Phone: 9569545454

BUILDER CATEGORY

SILVER
Price | Lease Price
GBP Centrum retail shops, office spaces, serviced apartments price starts at approx:-
| | | |
| --- | --- | --- |
| UNIT TYPE | FLOOR | PRICE (PSF) |
| Retail Shops | Ground Floor | 14,500-18,500 |
| Retail Shops | First Floor | 11,000-13,500 |
| Retail Shops | Second Floor | 9000-11,000 |
| Food Courts | 3rd Floor | 10,000-12,000 |
| Iconic Showroom | | 16,000-18,500 |
| Office Space | | 7000-9500 |
| Studio Apartments | | 7500 |
The sale price of commercial office spaces of the GBP Centrum is already on the very higher side. If we compare the office space price among other reputed commercial properties/projects of Ambala Chandigarh Expressway Zirakpur, then we find that the price of GBP Centrum is higher approx INR Rs 2500/- per sq. ft.
The sale price of retail space is also on the very higher side and there is hardly any chance of early growth.
There is very little difference in the price of the ground floor and first floor shops. If we compare maximum ready to move retail shops of Ambala Chandigarh Expressway, where the first floor retail shops resale price is less than 10,000/- per sq ft in comparison to ground floor shops. And in this consideration, the price of GBP Centrum 1st & 2nd Floor is very high. And there is hardly any chance of good growth
Conclusion
Profitable resale in assured return property/projects takes a very long time, can say minimum 10-years or even more. There are several examples of flop assured return projects in PAN-INDIA. Actually, assured return and pre-leased guaranty payment plans are the tricks of fundraising by fooling the public.

The price is already on the higher side hence investment of the GBP Centrum may take a very long time to grow. So invest carefully.
[Total: 5 Average: 2.6]
NOTE: BEFORE INVESTING, DO YOUR OWN RESEARCH