Project Review : The AIPL Joy Street is situated in sector 66, Gurugram/Gurgaon. This project is under developing by the AIPL Group (Advance India Projects Limited). It's a commercial property. This project consists of Ground & First Floor: High Street Retail | Second Floor : Food Courts, Restaurant, and a Flea Market | Third & Fourth Floor : Multiplex- Movie Theaters | Fifth to Seventh Floor : Serviced Offices and Serviced Apartments.
The AIPL Joy Street is a project offering the perfect integration of retail, commercial, hospitality, and entertainment in a single compound. The project is appealing not just from a design, location and concept perspective but the blueprint reveals that it would be functionally attractive too. The project dubbed as "AIPL Joy Street" will have four different sections to it namely the Hospitality, Business first, Leisure and Entertainment. The design is set to lean towards the contemporary makes making it a premier locale for the desired few.
Possession | Construction Update
The AIPL Joy Street is under construction. At present, the construction is in full swing. The promised date of delivery/possession is in the year of April -2019. AIPL JOY  STREET RERA Registration No is: 157 OF 2017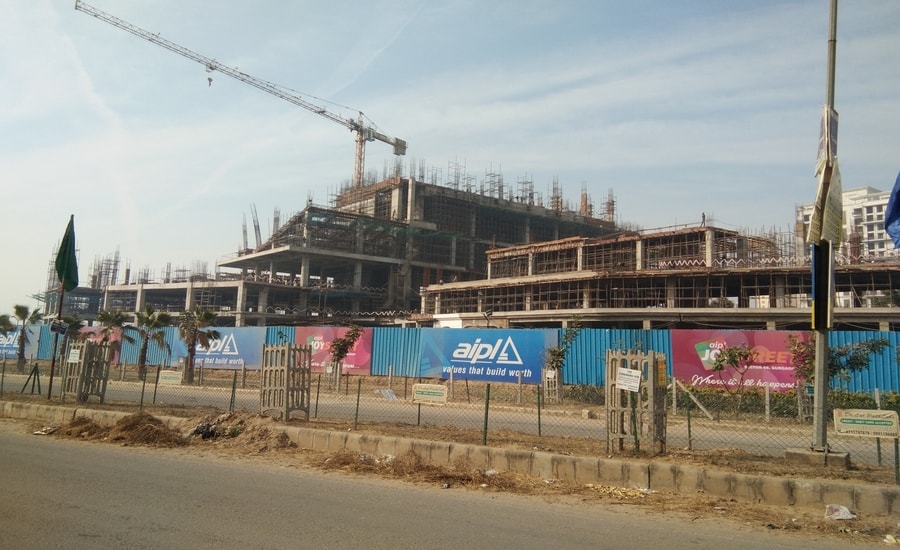 As per Location
The AIPL Joy Street commercial complex is situated on the 60 Meter wide road, surrounded with several ready to move residential societies. Its three sides open corner property. Both sides are wide roads. The layout design and elevation of this market are very attractive. There are more than four thousand ready to move flats and an urban rich residential population of more than eight thousand people, which is a very good sign for commercial property investment i.e. AIPL Joy Street.
The AIPL Joy Street caters to an immediate catchment of a big crowd of the sector 66, 65, 61 and sector 67 and nearby residential societies. It's a truly high street retail open market to cater to all kind of shopping, fine dining, and entertainment, fun, business needs of Golf Course Extension Road residents. The AIPL Joy Street is properly visible and walkable to every resident of nearby localities. So can say that the location of the AIPL Joy Street is excellent.
Advantages | Good Factors
The Layout design of AIPL Joy Street is world class. The ground floor and first floor commercial retail shop of this project is properly visible and looks like the high street open market. The ground and first floor retail shops are perfectly designed for maximum visibility to every shop. So the investment in the ground floor and first floor retail shops can give excellent returns in near future, especially the ground floor retail shops.
The AIPL Joy Street is featuring new methods Serviced Apartments because not only they are fully-furnished and fully-serviced, but also because they are multi-purpose and economical alternatives to hotels for travel executives and other guest executives to stay for short and long periods of time.
The layout design of commercial office space is also very impressive. The office space is well furnished and designed to cater to every business.
The AIPL Joy Street has the proper parking space for stakeholders and visiting guests.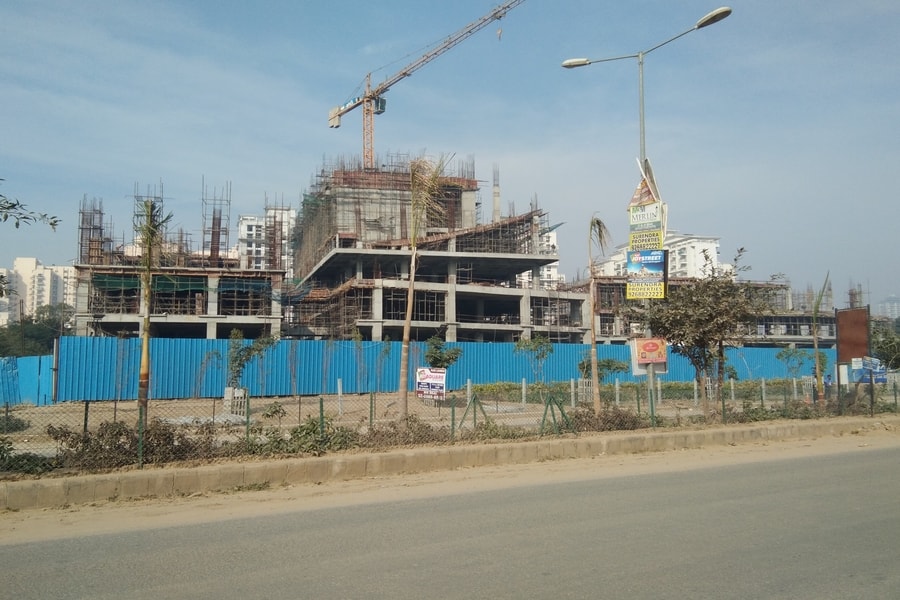 Builder Profile
The AIPL Builder ( Advance India Projea Limited) has a good market reputation in the real estate industry. He has successfully handover several residential and commercial projects in the Gurugram (Gurgaon). So the investor can invest in this project without any hassle.
Advice
The AIPL Joy Street is the right choice for investment for those who are looking for ROI within two years so. They can get the real appreciation of value for resale in a couple of years.
The AIPL Joy Street ground floor and first floor retail commercial shops are much better investment option than office space and serviced apartments of this project.
These days the developer of the AIPL Joy Street, offering many attractive schemes to customers to invest in this property, like the 12% assured return, lease guaranty, and the 50% – 50% payment plans etc.
Basically, the assured return & lease guaranty is nothing, the real estate developers sell their low money property at a very higher price to you and return your hard earned money in the name of the assured return & monthly rent to you in the form of EMI.
Actually, the assured return plan is a trick of fundraising. The Real estate developer sells its non-salable property with a greedy plan on a very higher price, to innocent customers in the name of assured return. They are making you fool.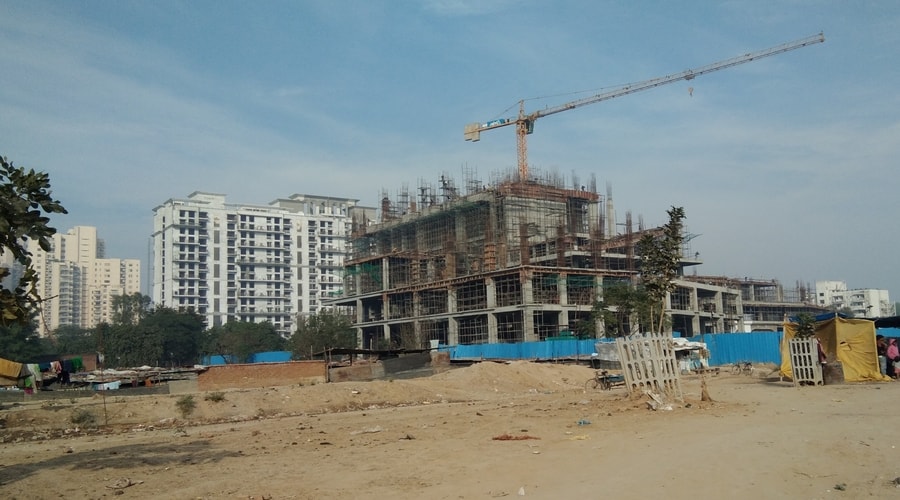 Key Point
If construction/possession of the AIPL Joy Street is complete in the set time frame or on before set time frame than this commercial project will give excellent returns to investors because at present there is no ready to move, good location Mall/High Street retail/entertainment facility type project available for nearby residents of Golf Course Extension Road Gurgaon.
Drawbacks | Bad Factors
The Sector 61, 62, 65 and 66, is already cross the limit of commercial property development. Actually, there is no need for new commercial projects in this location i.e. Golf Course Extension Road. But to see the prime location, advance stage construction, and excellent layout design/concept, we can hope that the AIPL Joy Street will perform well.
I again said that if construction/possession of the AIPL Joy Street will complete on or before set time frame than this commercial project will give excellent returns to investors otherwise investors can face problems. Because of at present there are so many big competitors, under construction/new launch commercial projects in the Golf Course Extension Road Sectors.
That the AIPL Joy Street, location is prime but in this prime location several other prime locations ready to move and under construction commercial/retail/office space/Mall type properties are exist like The M3M Cosmopolitan, The M3M Urbana, Emaar MGF The Palm Square, Emaar MGF Digital Greens, Emaar MGF Emrald Plaza, The Suncity Success Tower, Pioneer Urban Square, Spaze Buziness Park, Splendor Trade Tower and under construction M3M Tee Point, M3M City Hub, M3M Financial Centre, M3M Urbana Premium, M3M Marconi, , AIPL Joy Central, Elan Town Centre, Imperia Mind Space, Emmar MGF Colonnade,Banni The One, The Landmark Walkway 66, Era Casa Pisasso, Suncity The Summit, Pioneer Hi Street, Bharti Worldmark and the Splendor Epitome Work n Stay etc.
All above-said projects are within the one KM radius. And all these projects have the same products. All are commercial/retail/office space/serviced apartments/studio apartments/Mall type properties. All these commercial properties/projects are creating investment competition in this location.
There is a big gap in demand and supply. The supply is very high in comparison to demand of this same kind of commercial projects/properties in this same location.
So in future and in present time, investors are facing problems in leasing and selling their commercial properties in all above said commercial projects.
Now the question is that, what's the logic behind all these oversupply commercial? Is there any limit? Actually, there is no proper planning and re-planning for commercial development by the concern development authorities Of Haryana government (GMDA)/HUDA.
How much commercial property is needed and when it is needed the Haryana government/HUDA/GMDA has no planning. In fact, this is the collusion of the corrupt politician, government officers, and real estate developers. Actually, it's a System failure and we all are the victims of this pre-planned cheating.
In the Gurugram and Delhi area, all Mall or Mall type properties are not the good and safe Investment options. The maximum investor who invested in Mall type properties is in 99% loss.
In the Gurugram and Delhi area, only a few Mall is running fine like The Ambience Mall, The DLF Mega Mall, The MGF Metropolitan Mall, and The Select City Walk, Saket, New Delhi, etc otherwise all other Mall type properties are the investment of 99% loss.
The construction and possession of the project may depend on the sale of shops/space, so the project may be the delay.
Price | Lease Price
At present, the AIPL Joy Street retail commercial shops/spaces are available in this project at the price INR Rs 17K per sq ft on the ground floor and INR Rs 7K per sq ft to INR Rs 11K per sq ft on the first floor depends on the location and asking price. The office space price is INR Rs 07K per sq ft and the Serviced Apartments price is INR Rs 07K per sq ft to INR Rs 08K per sq ft. The price is reasonable for investment.
These days developer of the AIPL Joy Street commercial project offering buyers so many interesting payments plans to invest in this project/property, Retail Commercial Shops, like the 12% assured return, and the lease guaranty payment plans etc.
That builder/project who offers this kind of investment offers is not in the category of secure investment. As our experience most assured return and lease guaranty properties are an investment of loss.
Conclusion
The AIPL Joy Street is good for retail business startups.
Right now if anyone invests in the AIPL Joy Street, commercial project he may get minimum 6% per annum return if the builder complete this project on or before set time frame.

At present, if you are investing in the AIPL Joy Street, ground floor commercial retail shops, Within 3 year, you can get a price of INR Rs 25K per sq ft to INR Rs 30K per sq ft expected.
Our advise,  investment in the AIPL Joy Street commercial project is safe and avail good returns in the near future.
NOTE: BEFORE INVESTING DO YOUR OWN RESEARCH ALSO
CPR Ratings   * * *